No Friday ReBlog today because I haven't been reading enough (any?) blogs over the holidays to find good stuff for ya.  It'll be back next week; in the meantime, send me your favorite thrift- or style-related blog posts at leah AT thriftshopchic DOT com or leave 'em in the comments.
We went to the Great White(ish) North for a week over the Christmas holiday and I had to figure out how to pack for cold weather in a carry on. The limited parameters on my wardrobe were not as dramatic as this trip when I packed my stuff and my kid's into a tote bag (which I promptly forgot), but I did need to think practically about how everything would go together since warm clothes take up more space and thus afford fewer slots to play with.  Everything is thrifted unless otherwise noted.
Using the template from the How to Pack a Travel Wardrobe post, I'm factoring in:
-length of trip (6 days);
-weather/activities at destination (cold; family time + church + exercise); and
-laundry facilities (check!)
Knowing it would be cold, I started off with this wool/cashmere/angora sweater from the Loft, which is as cozy a garment as you'd hope to find:
Then I picked out tops to go underneath:
4 tops, with plans to either rewear or wash depending on how many living room dance parties were to be held.  L to R: Coldwater Creek, Piazza Sempione, Loft, J. Crew
I also tucked in a sleeveless undershirt in case it got REALLY cold – didn't need it but was glad it was there.  And I wore leggings (see below) under my pants when were going to be outside for a significant amount of time.
Then pants that picked up the colors in the sweater and would serve as great neutral bases:
L to R: Banana Republic, IT! Jeans
I wasn't keen on the grey at first, since I had a grey turtleneck; doing too much grey because it's just depressing when it's dark and cold. But the corduroy on the dark grey ones is almost like velvet, making them so chic I knew they would dress up my otherwise comfy outfits.   I thought about bringing my navy cords, too, but since I couldn't justify 3 pairs of pants (no room!), I decided to keep the grey and just not wear it with the grey top.  (Look for a post next week introducing the caramel velveteen pants.)
Jewelry:
Same ol' earrings every day, plus one pendant necklace, the cream and dark taupe of which would jive nicely with my sweater: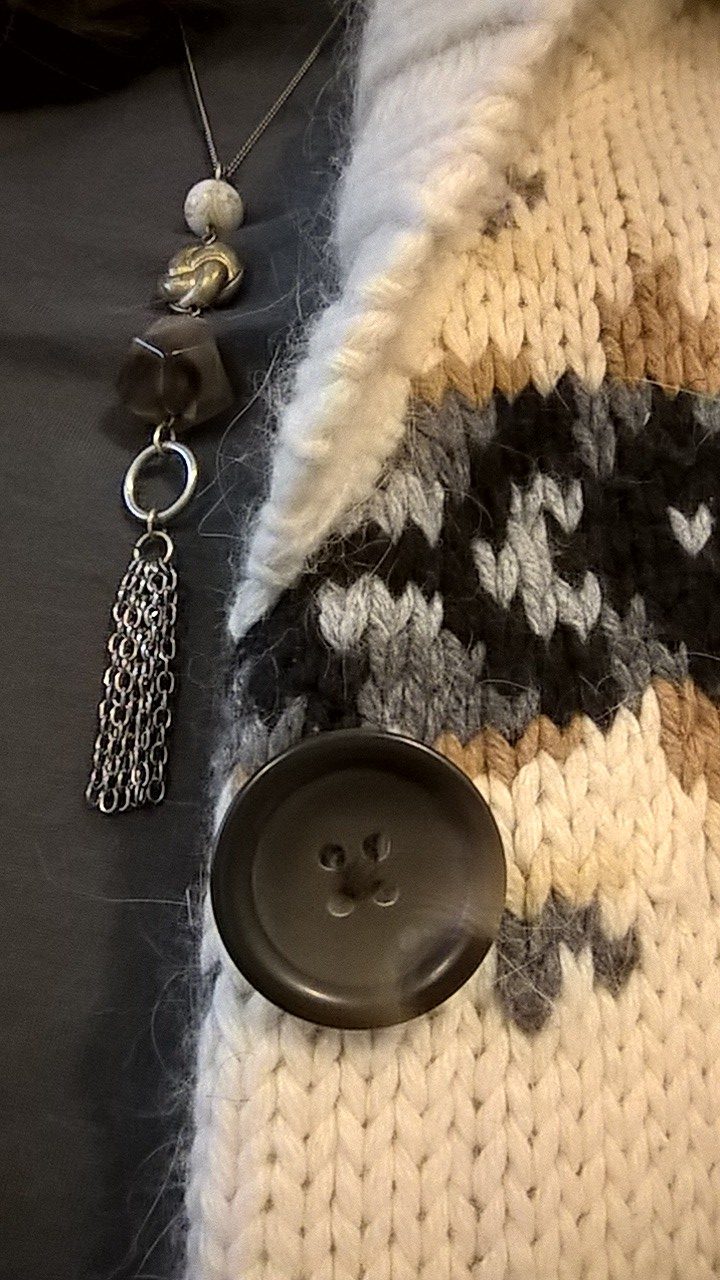 Necklace DIYed from Goodwill parts.
Shoes:
I went for one these two, to cover church (bronze flats by Clarks – retail) and everything else (navy Pumas):
Plus sneakers for running (retail).
Workout clothes:
Luckily my sister-in-law is pretty devoted to her running schedule so I knew I'd get a chance to run with her – motivation!
I packed a silk undershirt to layer and keep me warm: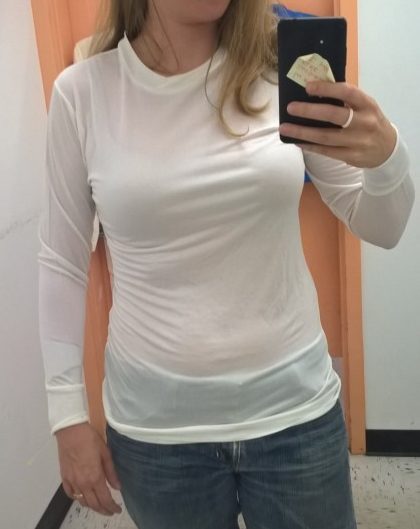 And a bamboo tech shirt to layer on top: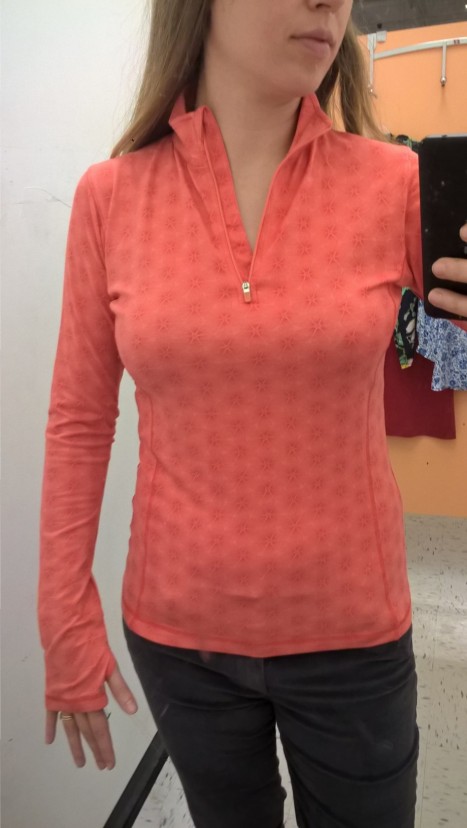 It wasn't cold enough to need more than that – I just had to run about 5 minutes to warm myself up and the silk kept me nice and snuggly.
I also brought bulky but oh-so-worth-it track pants from highschool to keep my legs warm while running.
I brought two pairs of leggings, one for sleeping and one for layering under the track pants, both American Apparel (retail).  Here was my shirt to sleep in (and to wear one day before I slept in it):
Faded Glory.
Sadly, I discovered ANOTHER hole in it, so it's hereby consigned to winter sleepwear with no daytime cameos: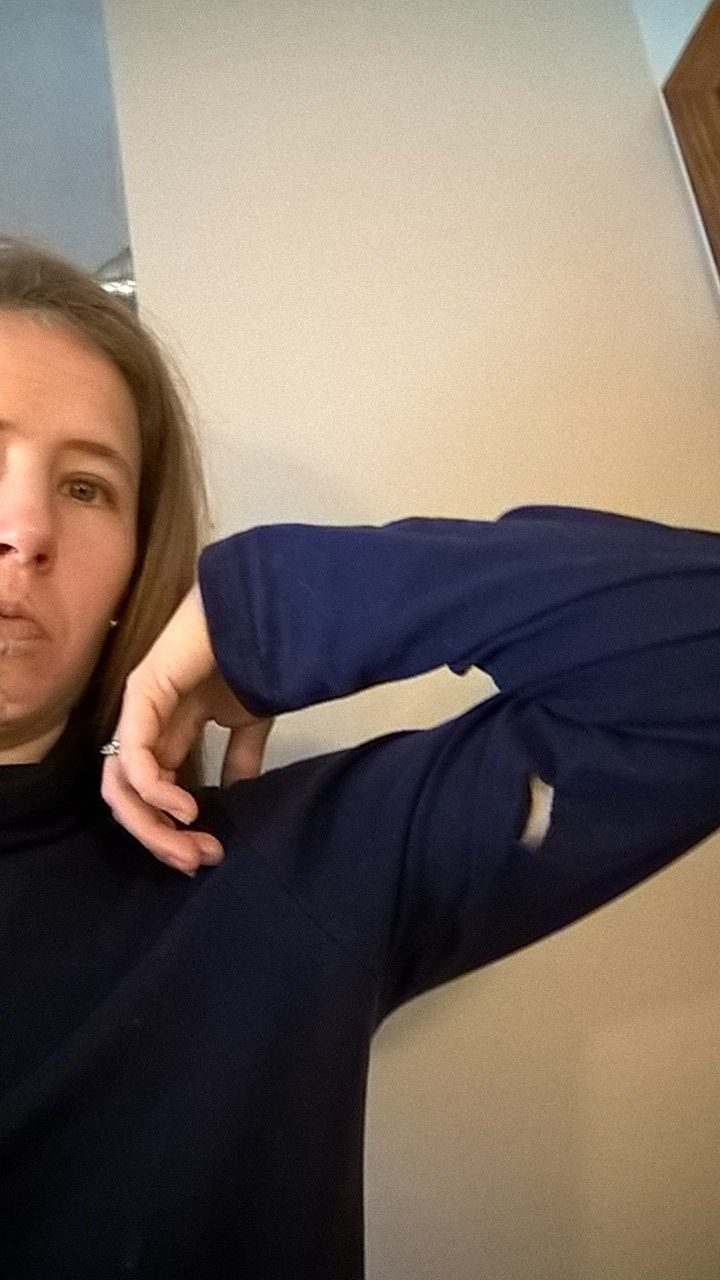 Outerwear
I wore my trusty red wool peacoat on the plane (well, used it as a blanket) and packed my freshly thrifted winter accessories in the outer pocket of my carry on so I could get them out first thing after landing: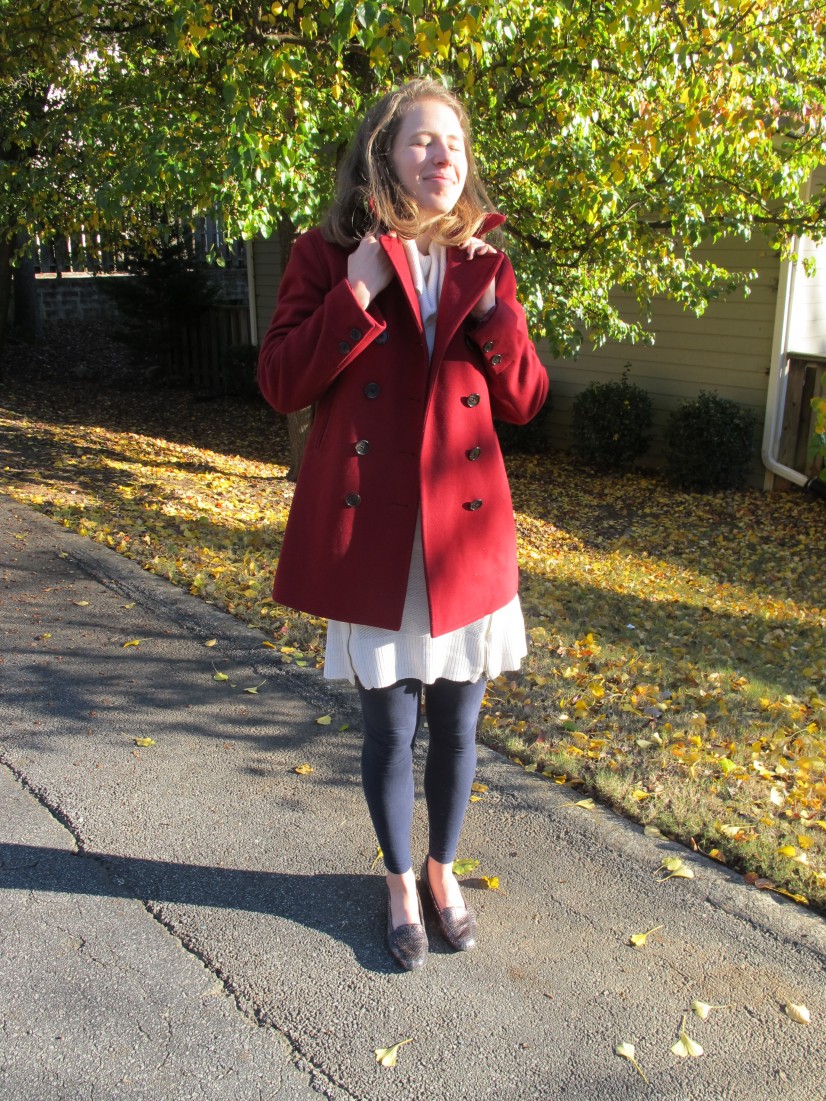 J. Crew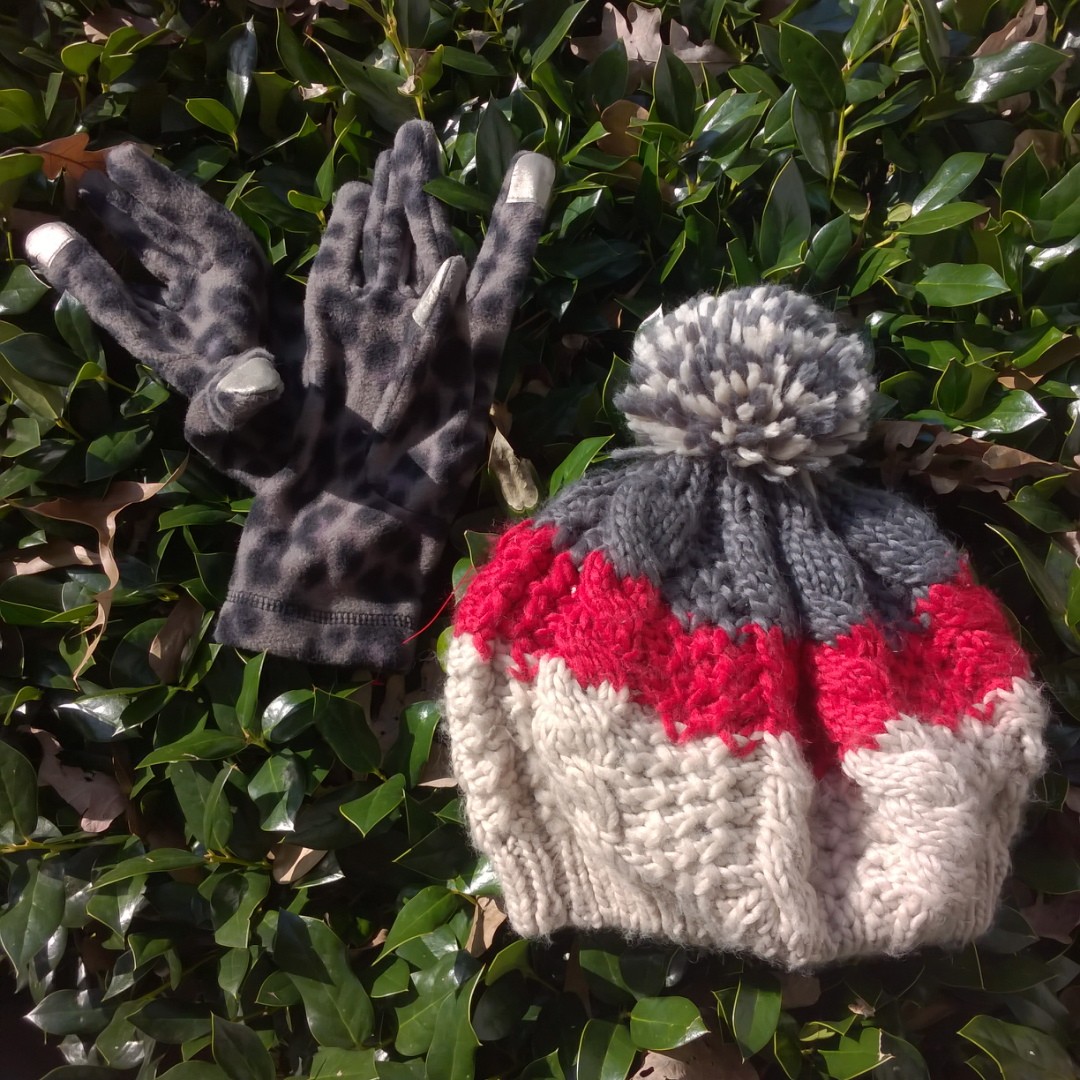 No tags.
Here are my outfits.  There's not a lot of variety, but I liked the formula.  Furthermore, I had no one to impress and just wanted to look put together and feel WARM.  Mission accomplished: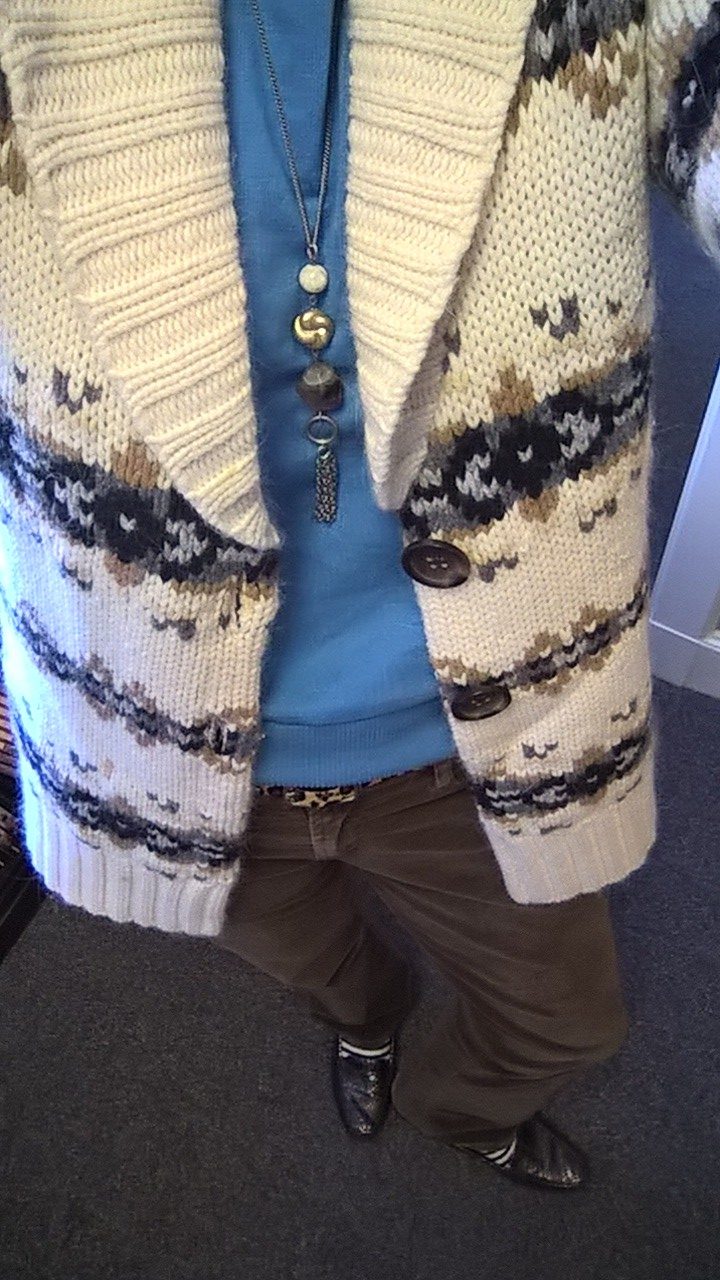 (worn twice)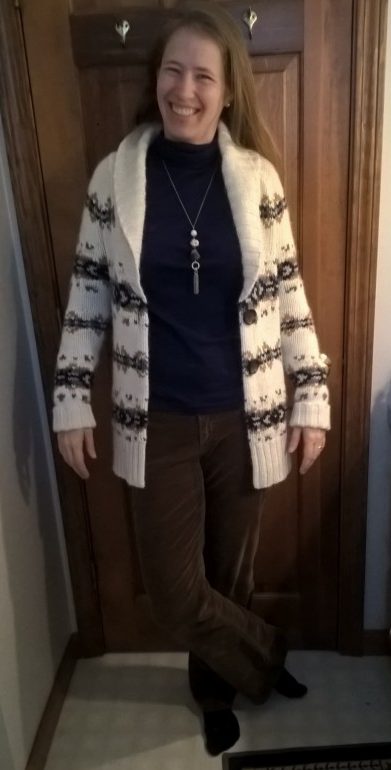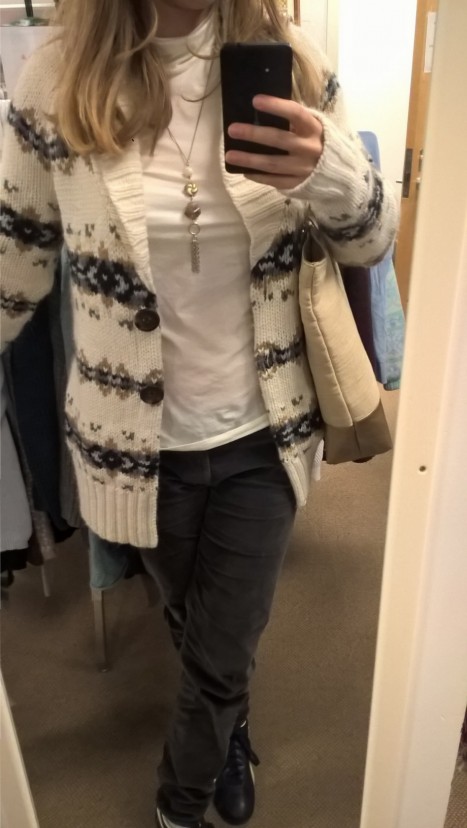 (worn twice – except for the bowling shoes, those were just worn once)
What are your strategies for packing sufficient cold weather clothes into a small space?  Do you ever just pick one simple outfit formula and wear variations of it to keep packing super simple?  Scroll down to comment, and Happy New Year!