These days the word "outgrown" makes me think of how fast my preschooler is blowing through toddler sizes. But as an adult I'm still outgrowing clothes, too – just in a different sense.
You know when you buy something that is good enough to convince you in the dressing room, but after a few wears, an annoying flaw becomes apparent? For a long time I would suffer through pants that had to be hitched up or blazers that cut off my range of motion because I liked how they looked or I worried about how I could possibly make outfits without white pants/neutral blazer/etc. etc.
But as I pare down my wardrobe to fewer and higher quality pieces and still find I have plenty to wear, I've become less and less willing to tolerate bothersome clothes.
In the last few years, I've outgrown clothes that are poor quality; tight; sheer; too short or too low cut; scratchy or itchy; pill easily; or fit everywhere but one crucial spot. And as I've become more honest with myself about what irritates me – no you will not enjoy wearing a see-through blouse no matter how cute it is! – I've been better able to head off bad purchases in the thrift store instead of bringing them home with me. Win.
Here's a recent "outgrown" that illustrates the power of quality and fit. Banana Republic makes a great blazer, and I recently had the good fortune to thrift two of them, both of which fit perfectly. They're beautifully tailored, with just enough give to allow for reaching, stretching, etc.:
Then I tried on this Kenar linen blazer, which is a great Light Summer neutral and which I wanted to use in an upcoming outfit post: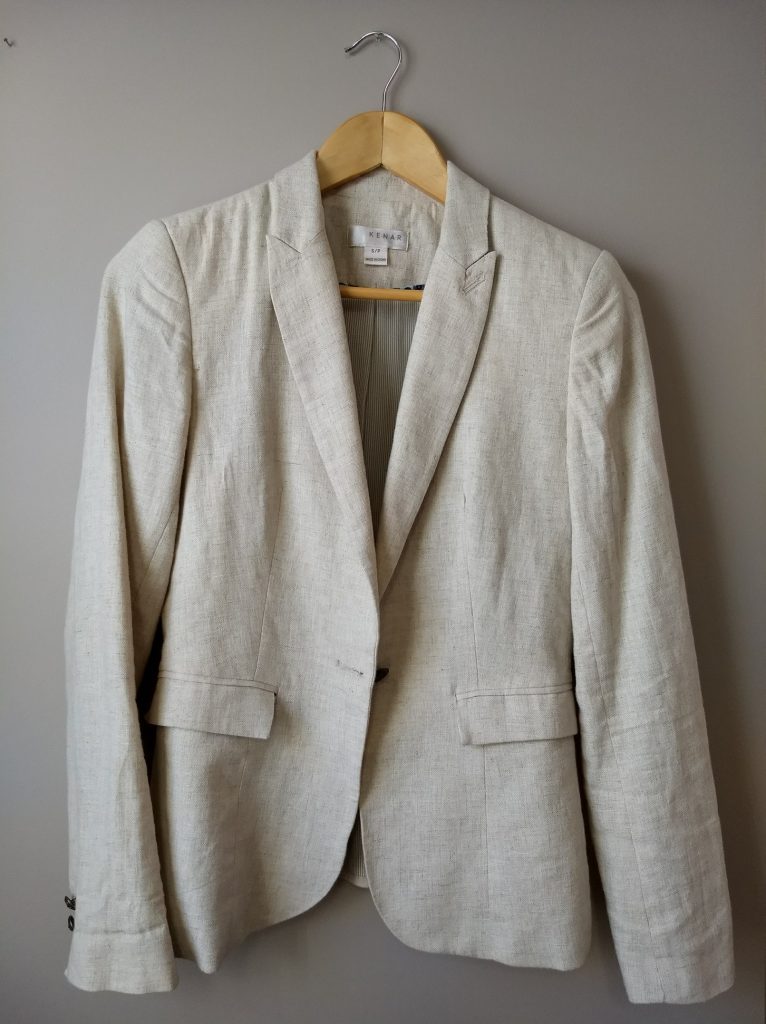 I hadn't worn it in awhile, but going straight from the BR blazers to this one, I realized how tight the shoulders were and how much the sleeves compressed my arms when I bent at the elbow. Super uncomfortable – I couldn't believe it was still hanging in my closet!
Sometimes you need the contrast of something perfect to help you realize just how far off the mark "good enough" really is.
So it was goodbye to the Kenar blazer (*tear,* thank you for all the neutral blazer looks you helped me dream about), and then I relaxed right back into the stellar tailoring of the BR blazers.
What have you outgrown lately? And what helped you go from making something less-than-ideal work to not settling for anything less than perfect?
PS For loads of looks featuring these two new-to-me blazers, visit my Instagram page.