So the other week I said I wasn't doing the 10×10 because we were still having 80 degree weather. A few days after that post published Mother Nature mocked me by dropping the temperature 20 degrees with winds that made me chilly even with a thick sweater on.  So I decided to jump on the 10×10 train a little late and have fun with it!
For those unfamiliar, a 10×10 style remix is a wardrobe challenge that uses limitations to spark creativity. Originating with Lee Vosburgh of StyleBee and now cohosted by Caroline of Un-Fancy, a 10×10 remix takes 10 pieces of clothing and makes them into 10 outfits over 10 days. What you count as an item is up to you (I'm not counting shoes, workout gear, outerwear), and so is the outcome – maybe you want to be satisfied with what you have instead of fighting the urge to shop, maybe you want to find new ways of wearing what you already have, maybe you don't want to have to stand in front of your closet agonizing over what to wear.
This time around I'm using the 10×10 to test out new (to me) fall pieces as I ease into a climate with real autumn weather. Since I started the remix on a whim (and after I already had other posts scheduled), this post will be a recap of the first half of the challenge.  I'll recap the rest of the remix in the next post.
My 10×10 Line Up
These 10 pieces centered around neutrals with some texture for interest; as you can tell I'm still firmly on #TeamCorduroy for cool weather. I also tried to incorporate a few new silhouettes – the loose crop and the trapeze/inverted hemline, aka the Chic Bat.
Here's what I'm working with – 5 sweaters, 4 pants, and one jacket: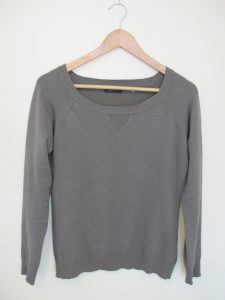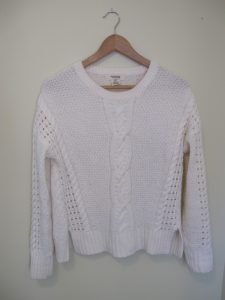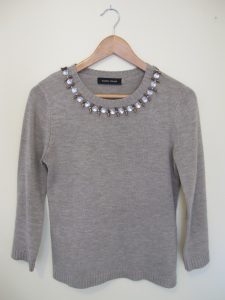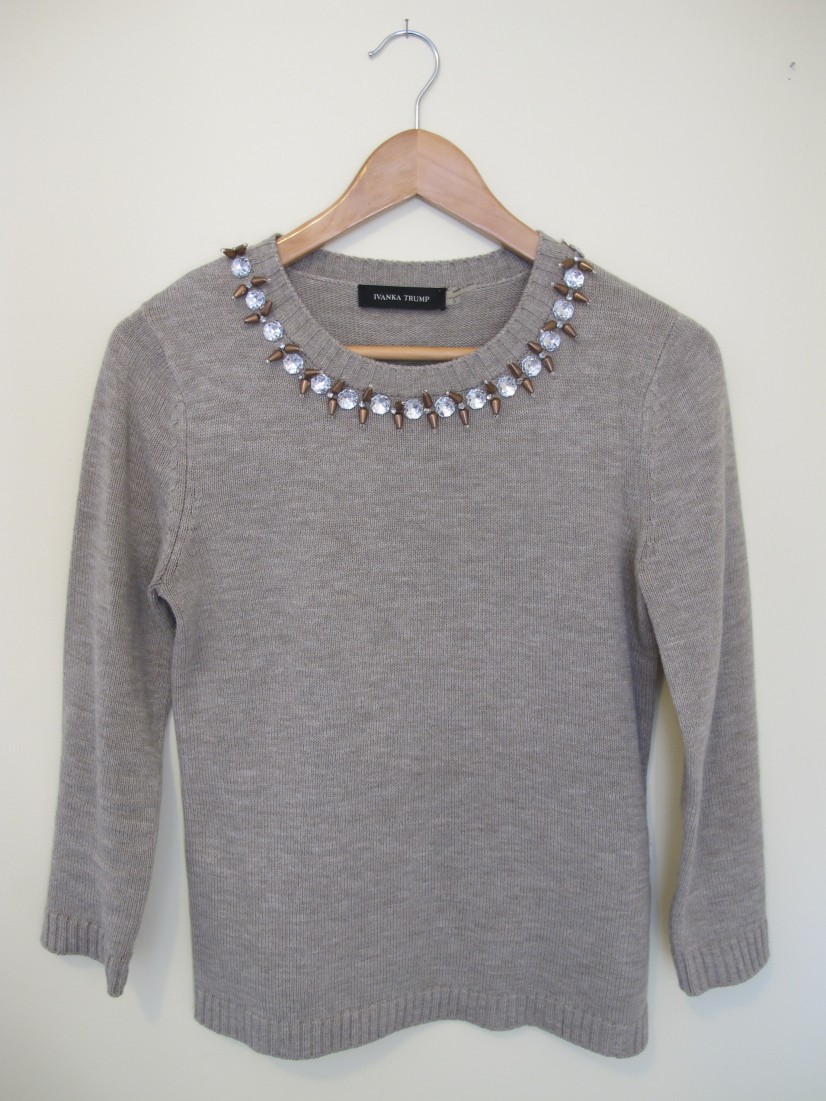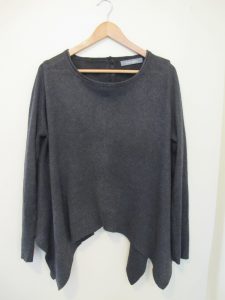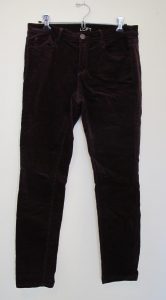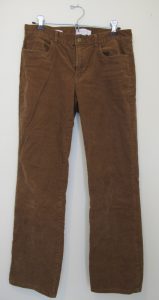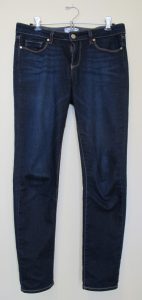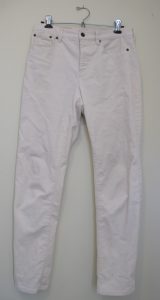 Olive sweater by Cyn; cream cableknit sweater by Workshop by Andrea Jovine; taupe jeweled sweater by Ivanka Trump (hey, all my money went to Goodwill so I'm cool with it); dishwater sweater by Gap Body; charcoal sweater by 1804 Coin; olive field jacket by United Colors of Benetton; dark purple corduroy pants by Loft; cognac cords by Talbots; jeans by Paige; cream cords by Lauren by Ralph Lauren. All thrifted.
Outside of my 10, I added shoes and a few scarves for more color/interest. Here are the scarves; I'll include close-ups of the shoes in the outfit shots.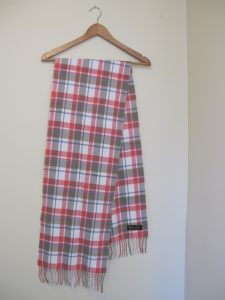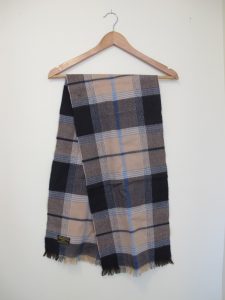 Scottish cashmere scarf, Etsy; merino wool scarf, thrifted
And now, on to the outfits.
Day 1 – Olive + Salmon Plaid
The sweater and ankle boots in this outfit are olive, despite appearing sort of taupe in the picture: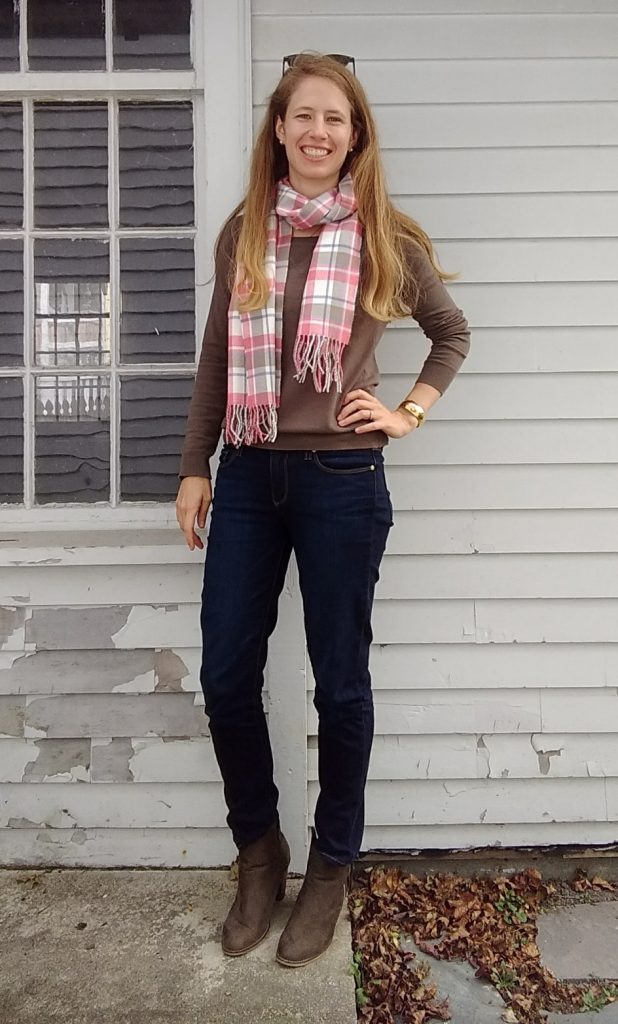 Closeup on this cashmere scarf with incredible colors – salmon, blue, cream, and a color that splits the difference between taupe and olive and thus pairs perfectly with my sweater:
I found this scarf on Etsy and have honestly no idea if it's actually 100% Scottish cashmere/made in England as claimed, but it's super soft and warm so I'm sticking with it.  More scarves in a variety of colors from the same vendor here.
These thrifted olive ankle boots by Leila Stone look 👌 with this sweater. The higher (for me) heel makes them slightly uncomfortable to walk in long distances, but it's totally doable on my short commute:
I give this outfit 10 out of 10. I feel chic, put together, and like I managed to add some fall color in a palette that doesn't overwhelm me.
Day 2: Navy & Cream
This sweater is actually more of a dishwater color…I love the texture and the silhouette (split hems forever!), but I think I'm going to bleach it and dye it cream so that it's not quite so… grey-ish.  Is there such a thing as cream-colored dye?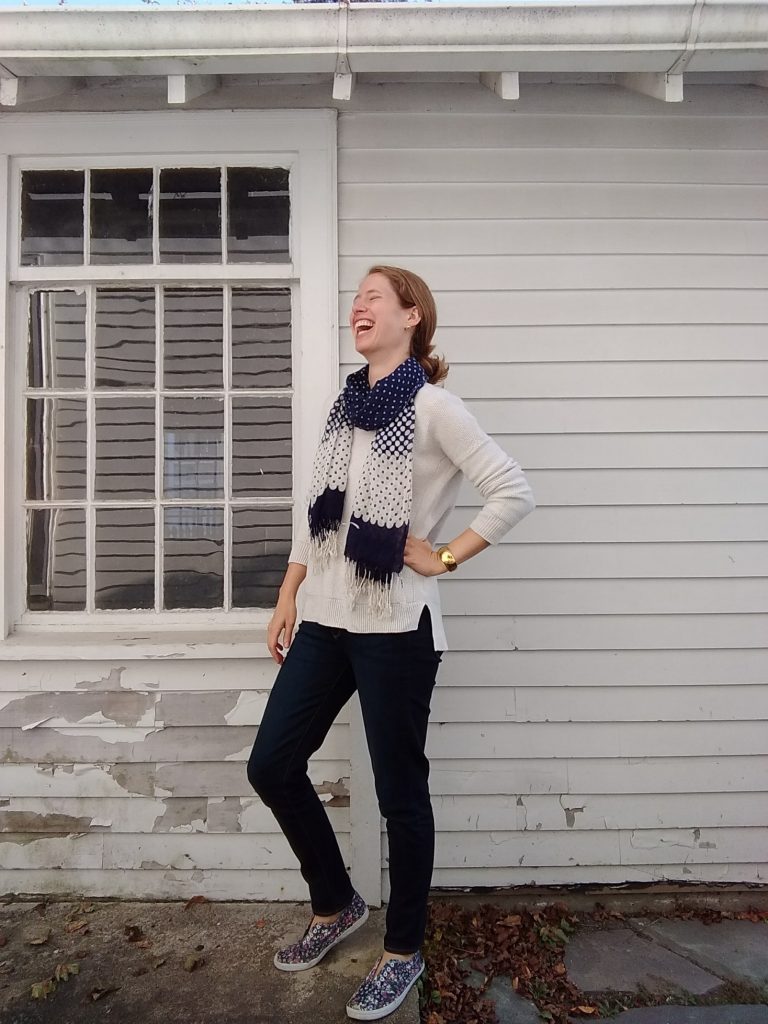 I like the scarf on top of that big blank slate and the print mixing with the floral sneaks. Now that the weather is chillier, I can easily swap my navy Puma sneakers for footwear warmth. I'd give this outfit 8/10 for comfort and style; -2 points for the dishwater color.
My daughter and I both wore charcoal and cream this day, which prompted her to declare that we were stormtroopers (don't worry; she's usually rooting for the Rebel Alliance):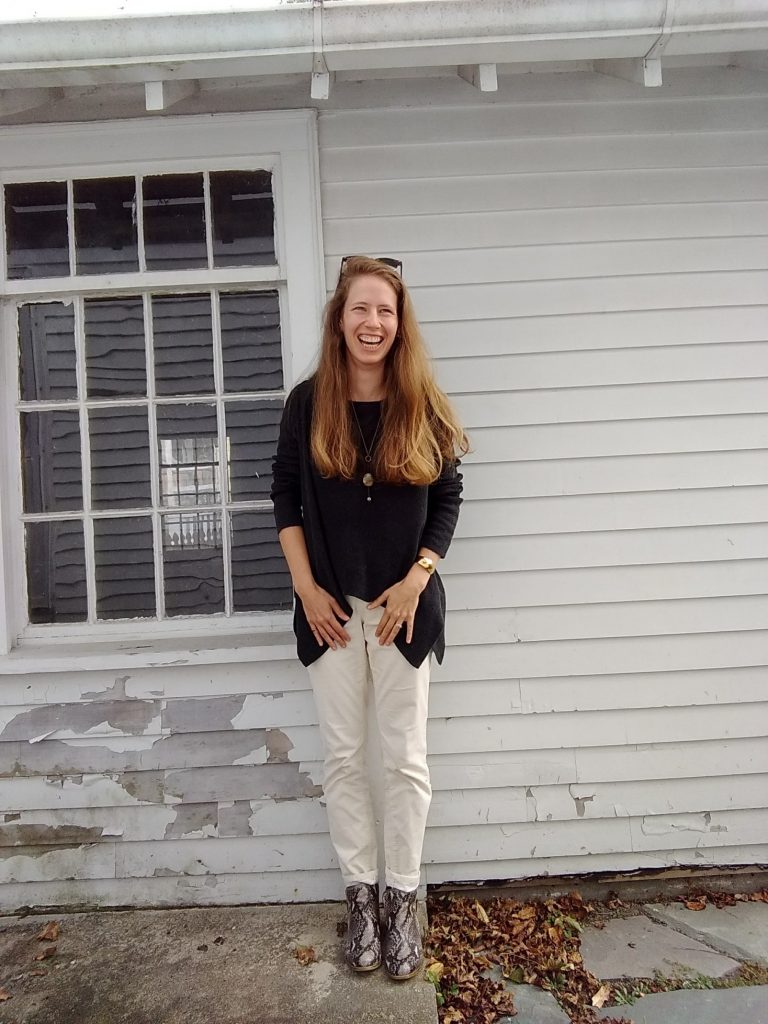 I surprised myself with how much I like this charcoal color; y'all know I stay away from true black and this is pretty close to it, but the charcoal somehow warms it up enough that I don't feel washed out.  I dig the contrast with my blond hair.
The inverse hem with a bit of a trapeze swing happening is new to me; I like it! It gives some movement and interest to the outfit while the fitted sleeves keep it from feeling completely nonsensical in the oversize department.
I do, however, think that the volume on top might benefit from slightly more fitted pants (e.g. my Paige jeans), so 7/10.
Here's a close up of the sweater texture and the DIY pendant necklace I made from Goodwill finds: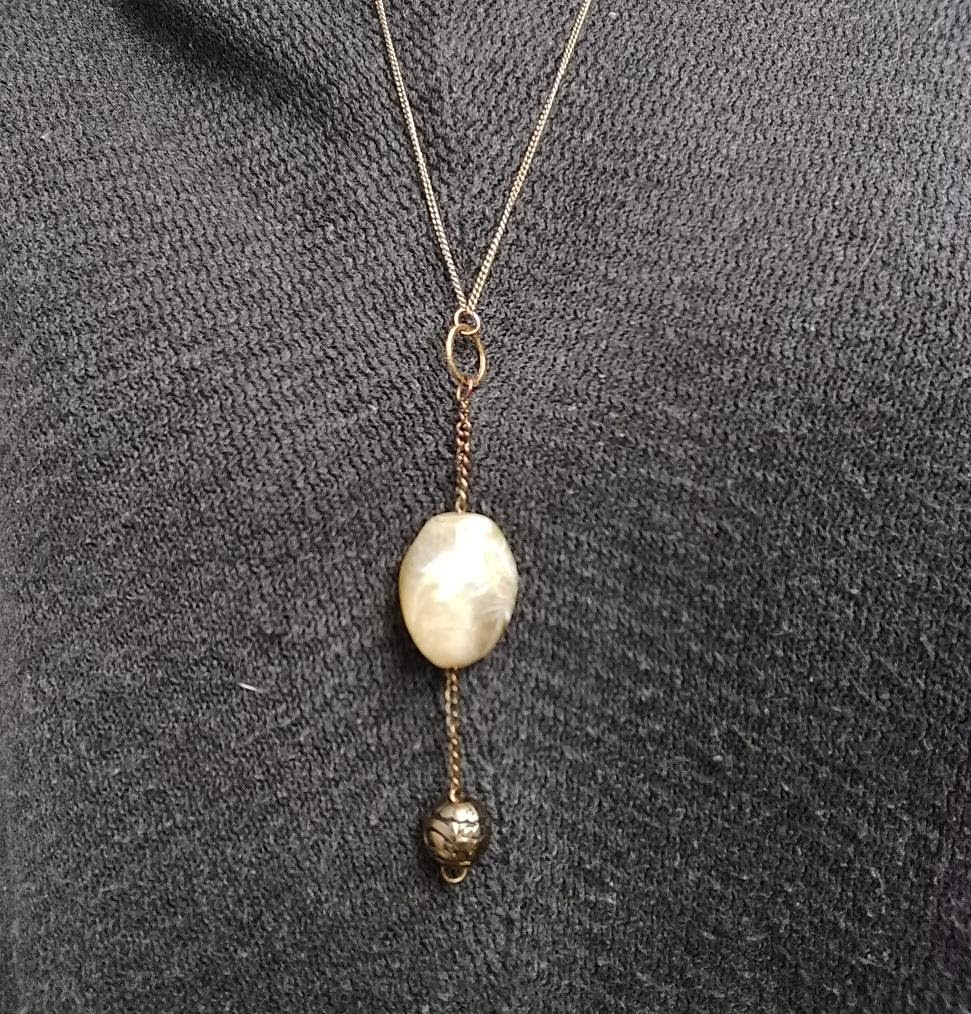 And the boots – I love the print on these:
Wish I could say I thrifted those puppies, but they were a Christmas present from a few years back. They're Lucky Brand (thanks Seester!).
Day 4: Cognac and Cream
This day started lazily at home with coffee and oatmeal spiked with locally picked apples, then segued into a visit with Thoreau at Walden pond. I felt absolutely cozy throughout thanks to this super soft cable knit sweater: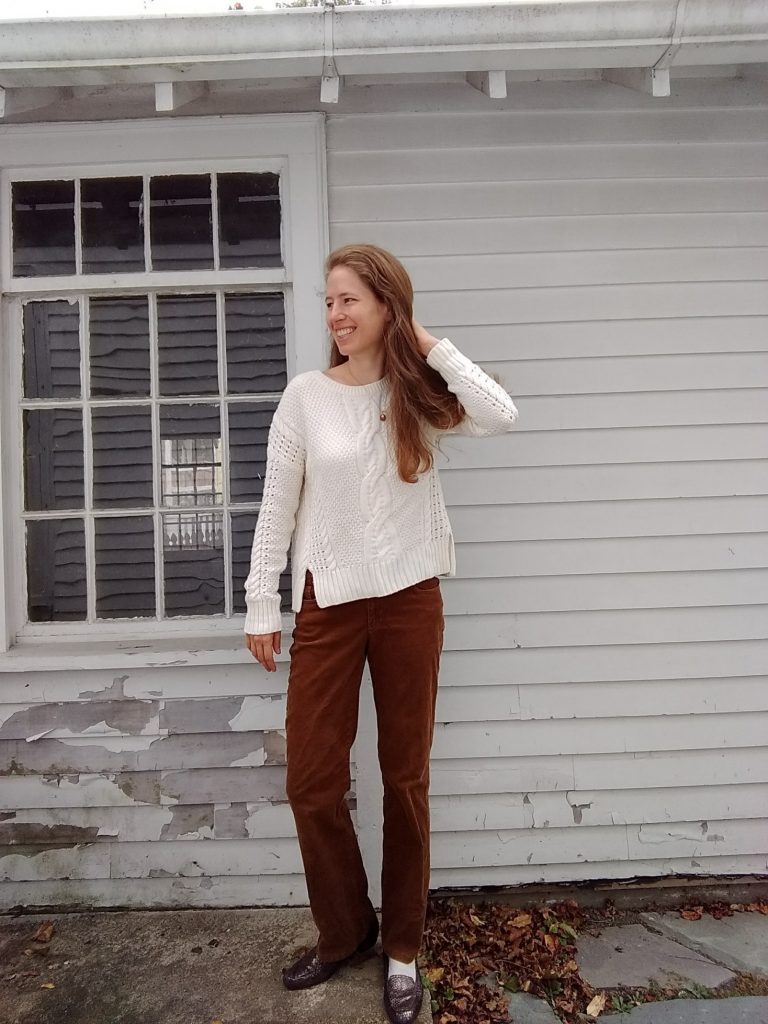 It features another new silhouette for me: a loose, semi-crop with fitted sleeves that once again kept things reasonable. Paired with flared cords (and the Pumas I ended up wearing to walk around Walden Pond – see below), it reads like I finally caught up with 2017 fashion, which long ago dispensed with skinny legs and fitted tops.
I LOVE the cognac color of these cords; it's really rich and vibrant and would pair fabulously with my crossbody bag. I've previously gotten flares tailored, but I think I might leave these as is…they have a hint of a 70s vibe that encourages me to embrace some volume in my silhouettes.
I rate the Puma version of this outfit (which you can see on Instagram) 8/10 because although I felt a little out of my comfort zone, I also felt cool – and comfortable.
Mmmm, cozy: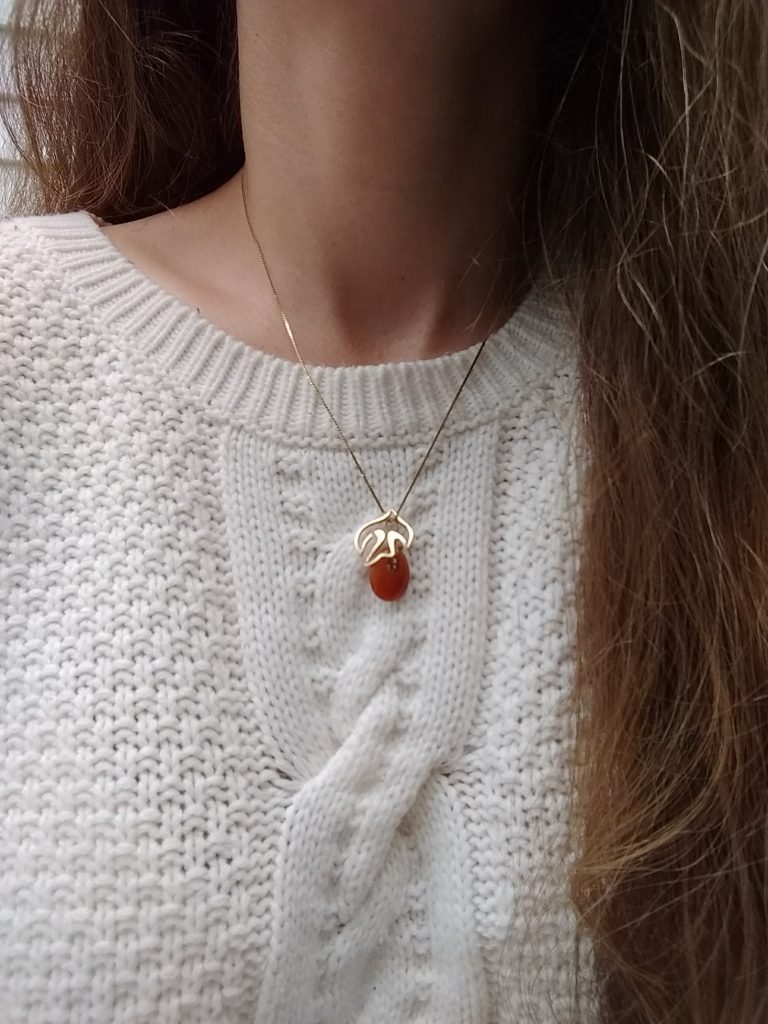 Here's a closeup on those colors: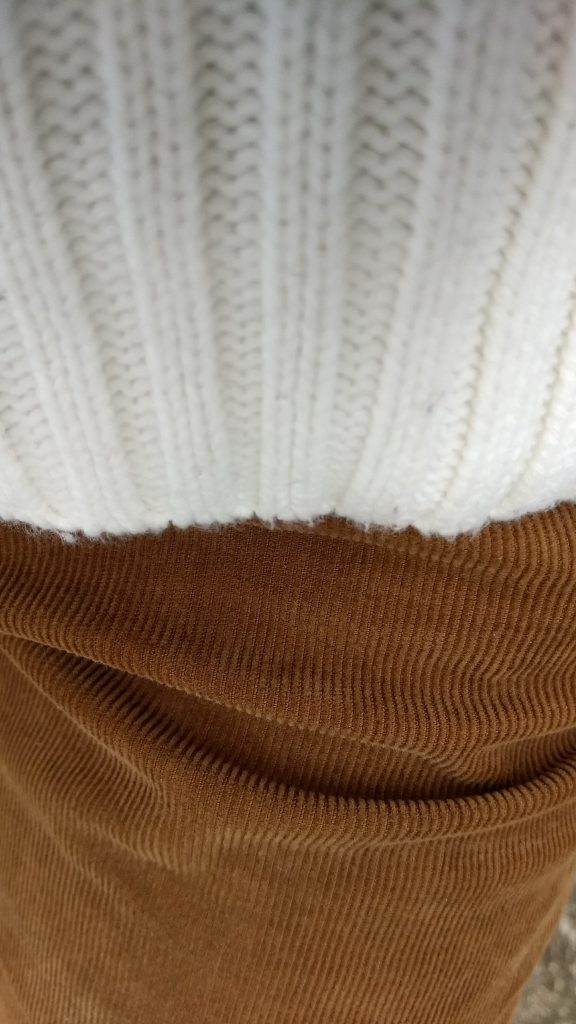 And the shoes for taking a walk: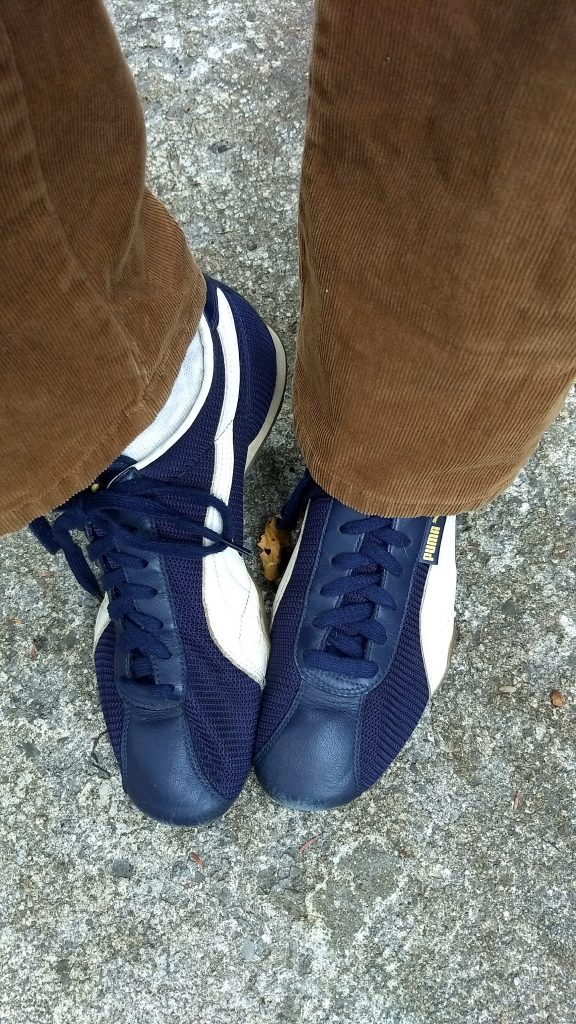 Day 5: Field Jacket Chic
Let's follow that 70s vibe straight into the 80s, where this field jacket picked up its corduroy collar and plaid lining: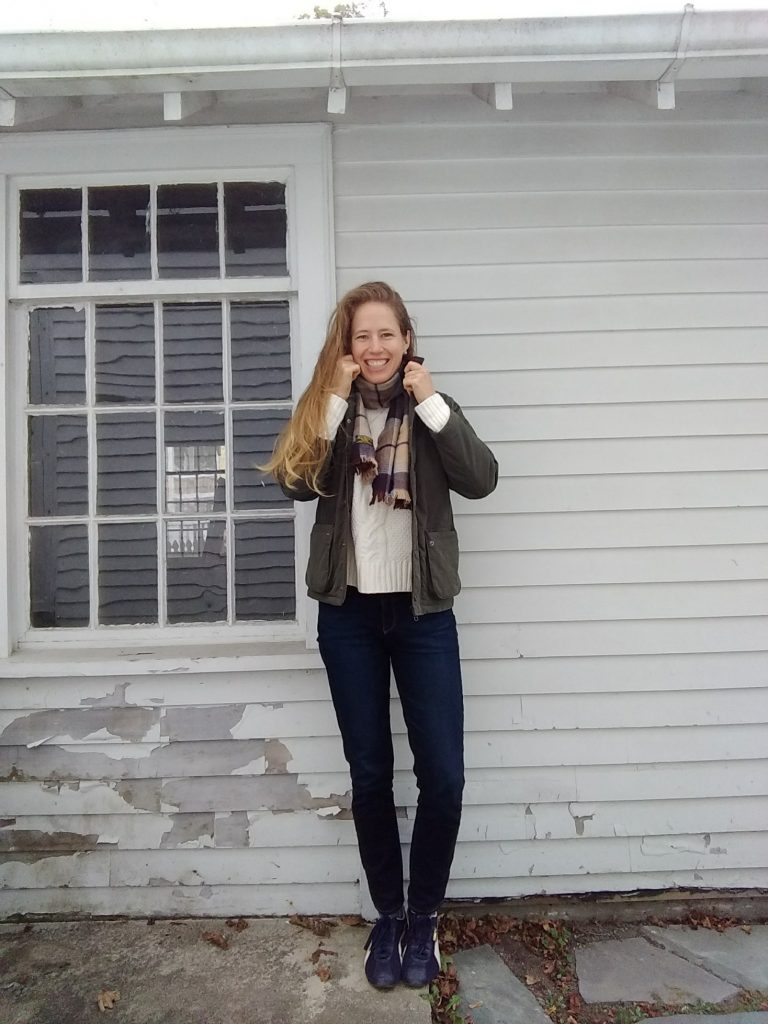 Love the colors on this scarf, and the mossy olive green on the jacket: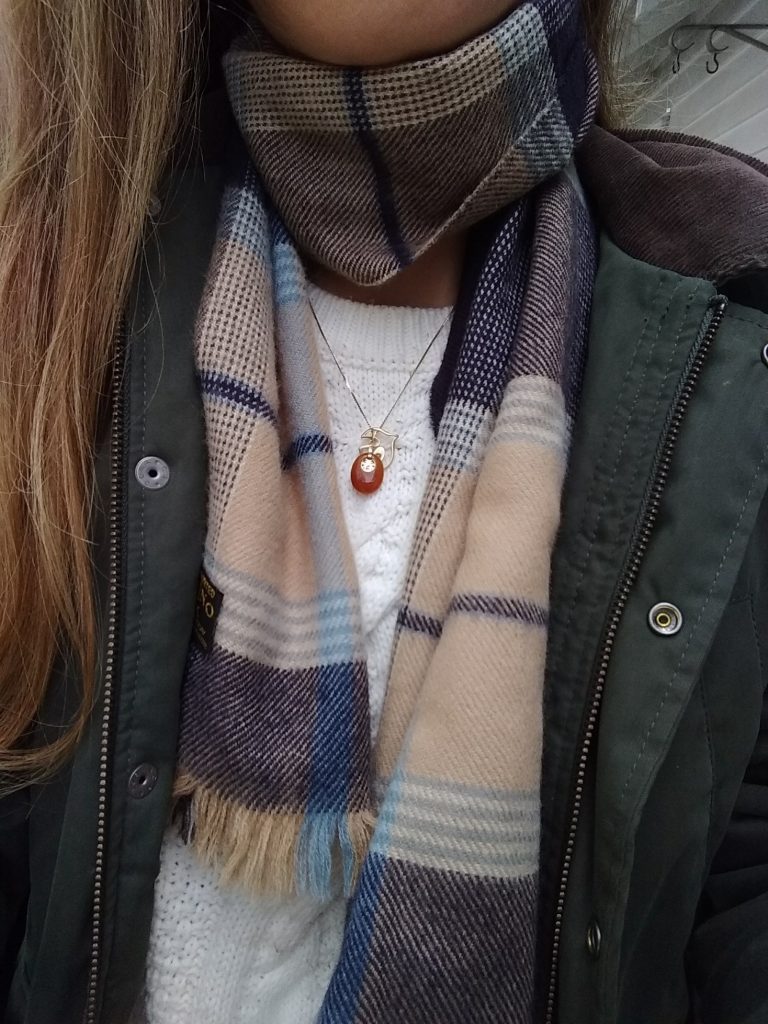 I'm giving this one 10/10 for color palette, for sweater + jacket pairing so well together, and for the finishing touch of the scarf which really pulls it all together. This would have been pushed up all the way to 11 if I had worn my olive ankle boots, but I had a lot of walking to do which called for the comfort of sneakers.
All right, Thrifters – that's a wrap on Part 1. Come back next week for Part 2 of my fall 10×10!  And share with us if you're doing (or have already finished) the Fall 10×10.