If you're like me and have been stuck in bizarre 80 degree weather for the last few weeks but still need your fall fix, this post is here to help. First up, some fall fashion from around town.
White cords with a matching turtleneck and contrasting cable knit sweater: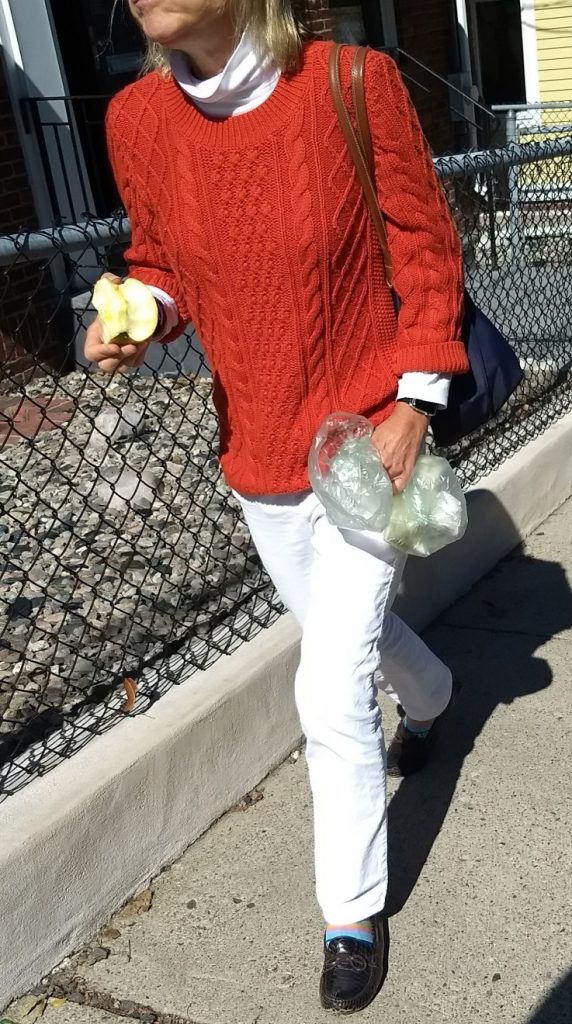 I dig the texture on the loafers (faux alligator?) and the apple as accessory.  The sock game is off, though – don't dilute the high contrast beauty of this outfit with pastels!
Sort of counter intuitively, that bright dahlia red in her sweater is very fall: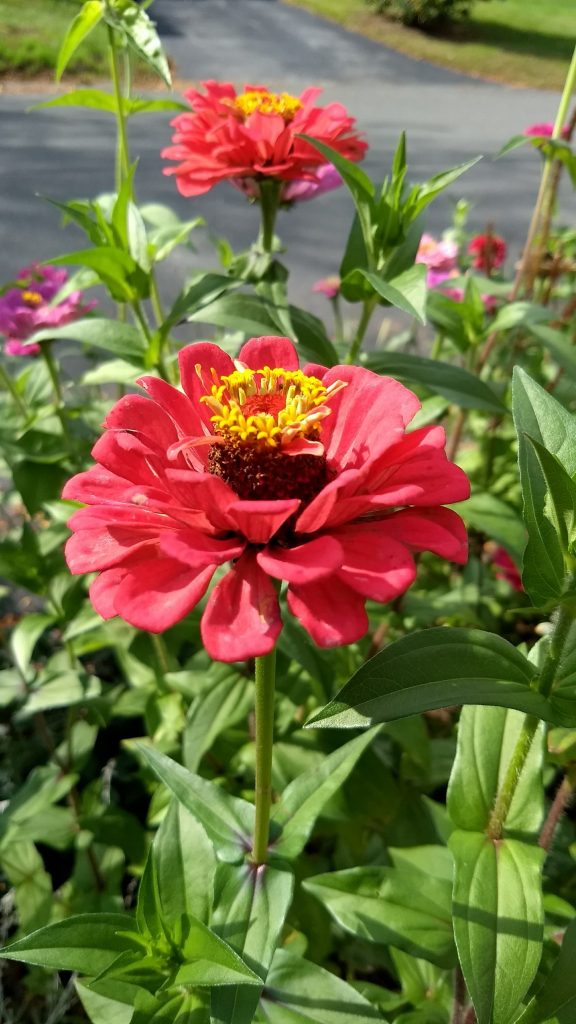 Flowers from down the block.
Out picking pears, I spotted this gentleman sporting some great mustard chinos paired with clogs, that back-in-style-again fall staple: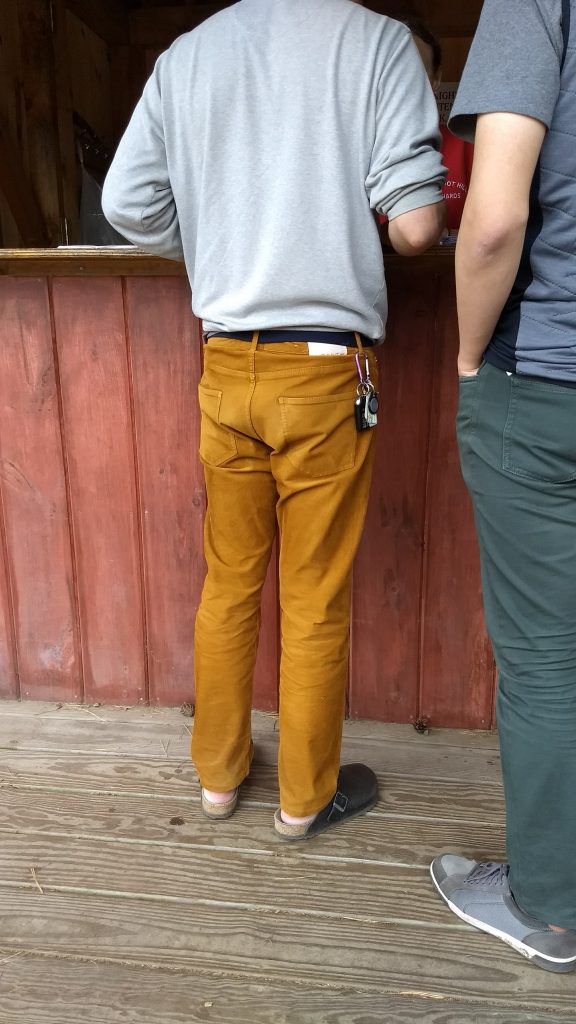 Honorable mention to the teal chinos on the right!
More clogs, in IKEA, sported by a French woman:

We helped each other load boxes then chatted briefly while my child ran off with her own furniture cart like some kind of demented sled dog driver.
At our local independent coffee shop, this woman was rocking hiking boots + jeans with holes + purple plaid. Not in my wheelhouse, yet her look felt effortlessly cool. The cool factor was increased by the fact that she appeared to be 50+, an age when many women steer away from rocker/grunge style:
A better look at that plaid and hole-y jeans:

Still warm enough for slides on her companion!
This textured sweater + scarf over jeans combo on a woman of about the same age, on the other hand, is perhaps more expected, but it's also right in my wheelhouse. I think my heart skipped a beat when I saw her look. Check out that luscious cream color of the sweater, its loooong length and split hem, and the delicious texture on the sandals, again a concession to warm days:

Here's a fun pairing of berry and fuchsia (more pink than the red in this photo) that, like the bright red sweater above, speaks to these hot fall days when flowers are still blooming left and right: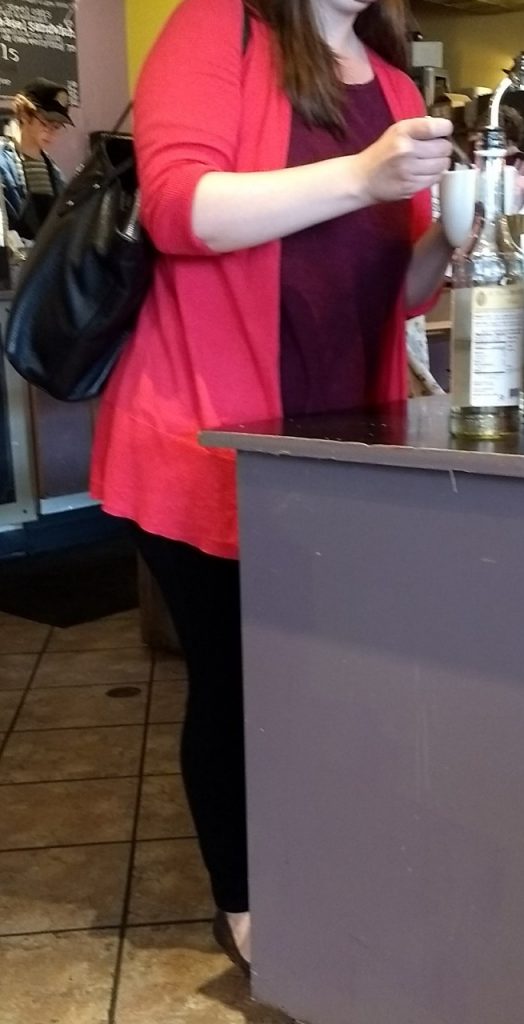 See what I mean?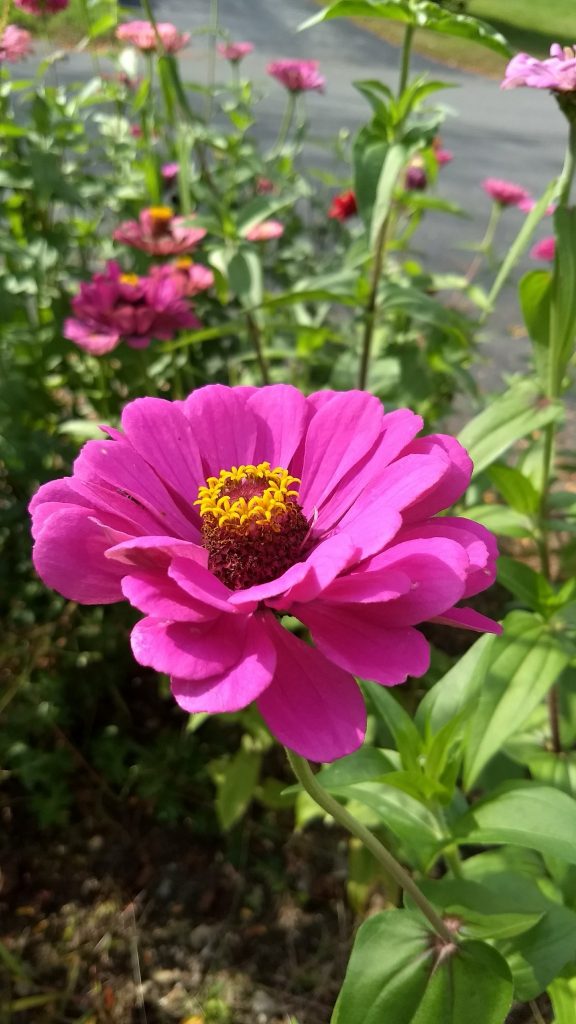 —
Last week we went up to New Hampshire and Maine for a quick overnight to celebrate our anniversary. First up was a visit en famille to Applecrest farm to ogle the apples and pumpkins and to visit the farm animals. Let me tell you, though, the first thing that caught my eye, right out of the car, was the fall style on these two late-20s-ish women:
Patterned scarves, split hems, plaid elbow patches, a quilted vest, great color palettes…the mix is good enough that I can overlook the matching TOMS.  Did they call each other that morning and agree to wear variations on the same outfit?
Same idea, different execution – love the green pants and the plaid shirt with red hair on this mom of a toddler: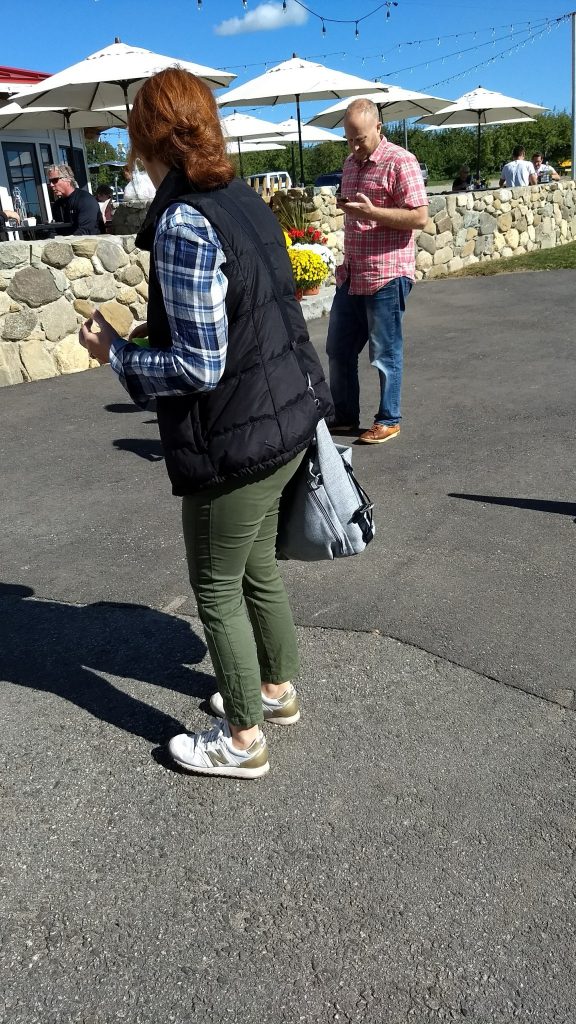 And one more toddler mom, this time with shearling and Chucks: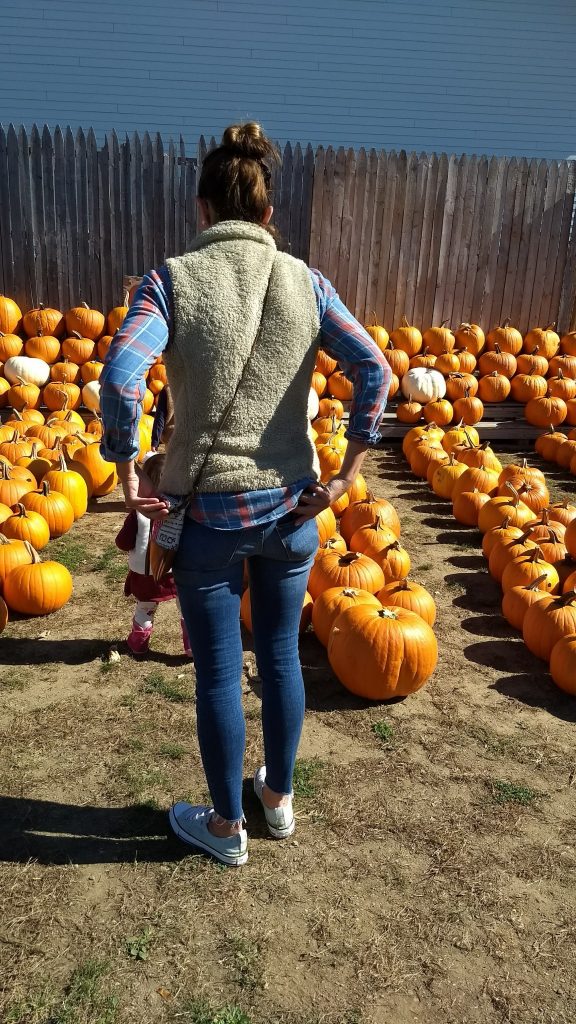 There was another woman whose picture I couldn't get but who wore a marled oatmeal hip-length sweater topped with an olive green utility vest over jeans and grey suede ankle boots and it was the first time I liked a utility vest.
(Please, after all this time, don't let me start liking olive green military parkas! Yes I know that field jacket from last month's finds is awfully parka-adjacent… it's a slippery slope, people, don't get on it. Unless you are Une Femme who completely makes it work.)
Next we left the kid with the grandparents and headed north to York, Maine, where we got engaged lo these many years ago (awwww). After a walk on Long Sands beach…
…including the two most gorgeous mussel shells I've ever seen…
…and a quick trip to the Nubble…
…and a stop at Dunne's for Maine Survivor ice cream (no picture, sadly; we ate it too fast!)…
…we drove through York, where we perused this local artists' gallery…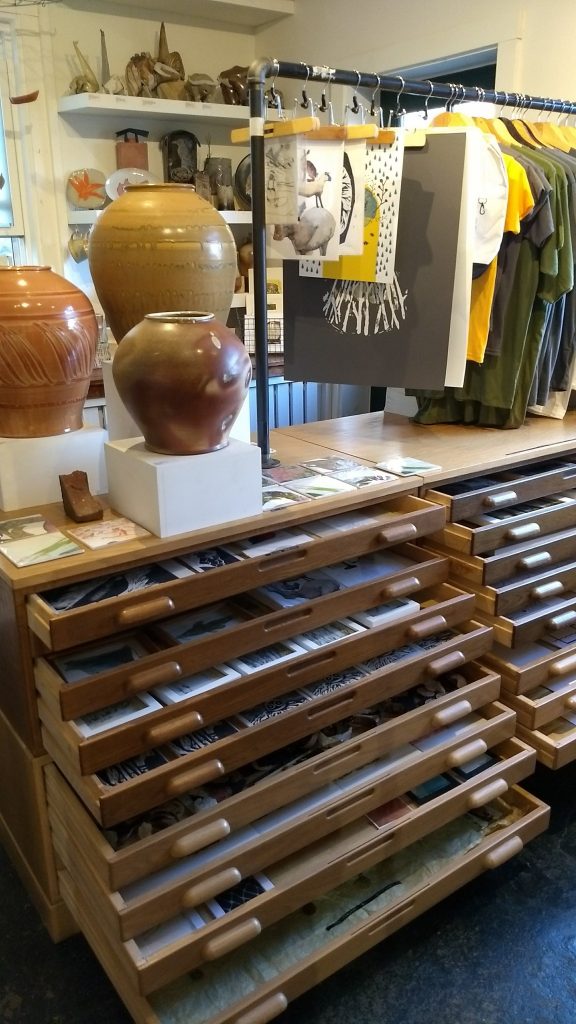 Best print storage/display idea ever.
…and spotted this equestrian chic outfit (love that long plaid scarf)…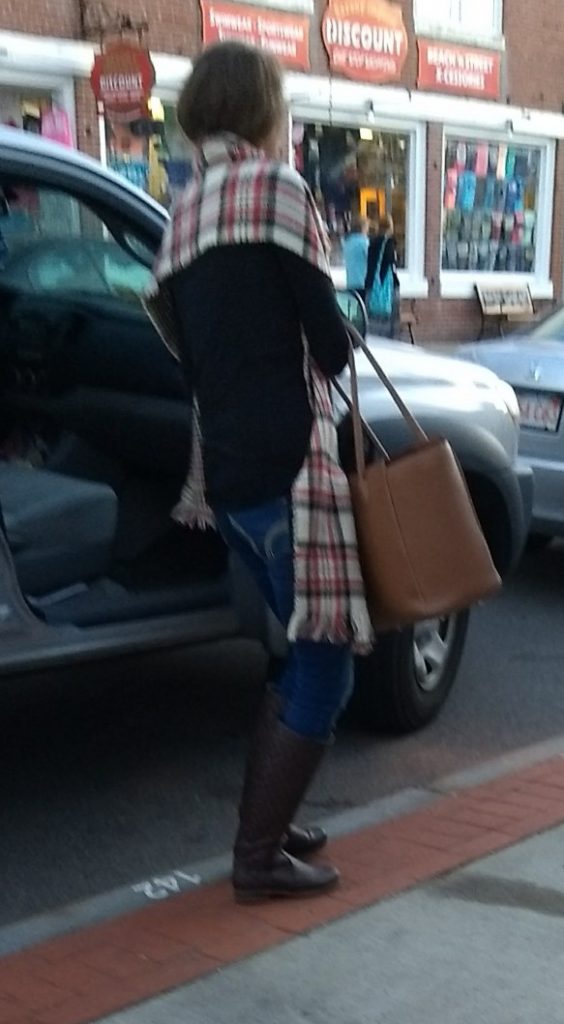 …just outside the Wiggly Bridge Distillery tasting room, where we enjoyed a flight – yum!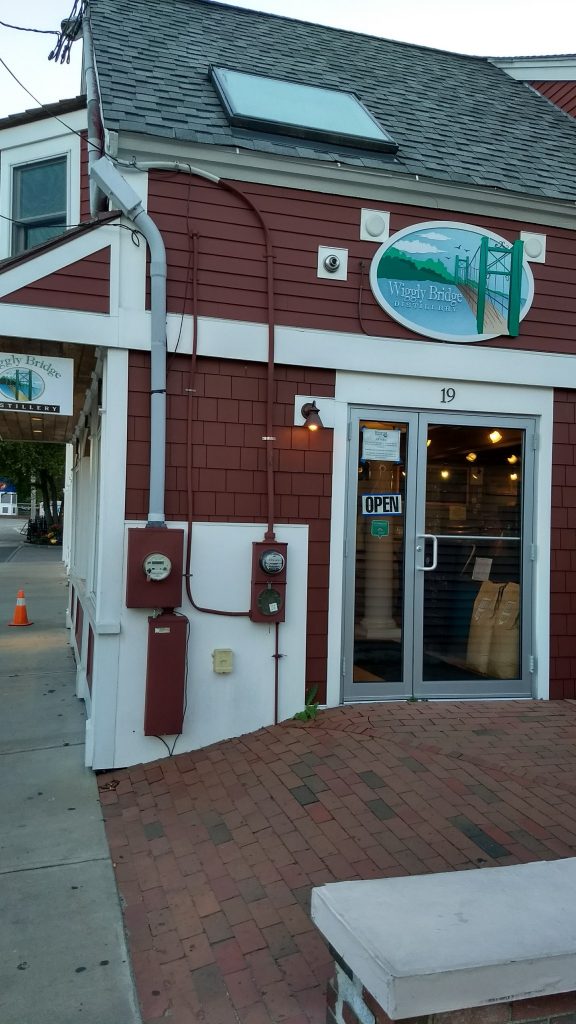 Then it was off to dinner at The Central, a recommendation from the woman staffing the tasting room. I had the only best! lobster corn chowder of my life and some really delicious beets/goat cheese/Brussels sprouts washed down with local hard cider. I was ridiculously happy to be enjoying wonderful food with just my beloved and no child. :)
Bonus: there was Maine dining-out style to be appreciated! While the apple-picking/whiskey-drinking crowd was on the younger side (late 20s to mid 30s), the women out to eat tended towards 50+ and, to a woman, looked fabulous. Perhaps it was the venue/evening time slot, but they looked a bit more polished, via jewelry and shoes, than the younger crowd, including this chic take on buffalo check paired with a cream down puffer and silver pendant: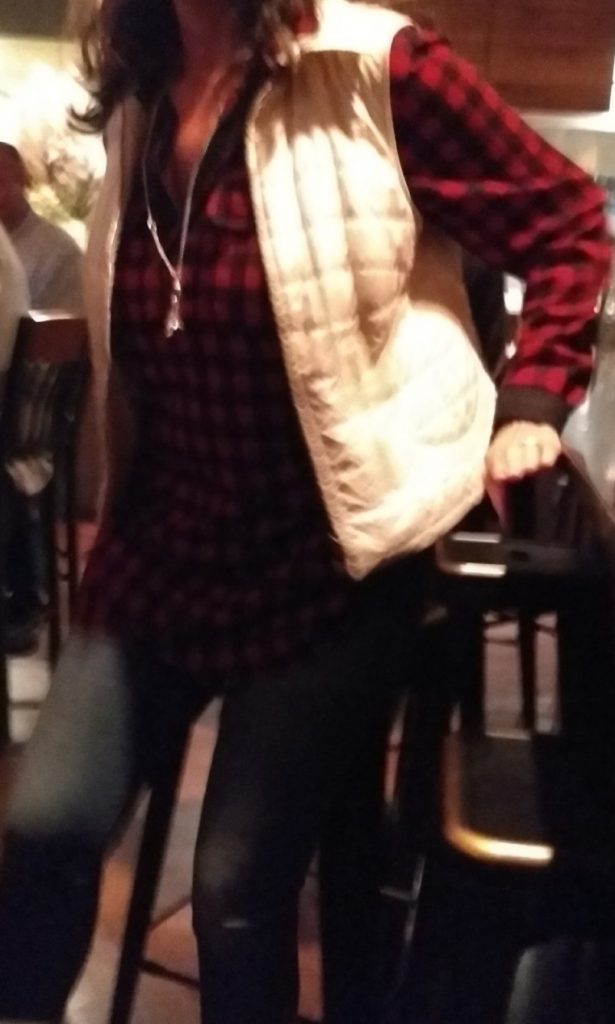 …and this just-right goldenrod sweater with split hem and scarf (are we noticing a pattern?) and gorgeous silvery long hair which I'm going to covet now for my future hair color. She was laughing in the most lovely way but since I try to keep people's faces obscured you will just have to imagine her having a wonderful time: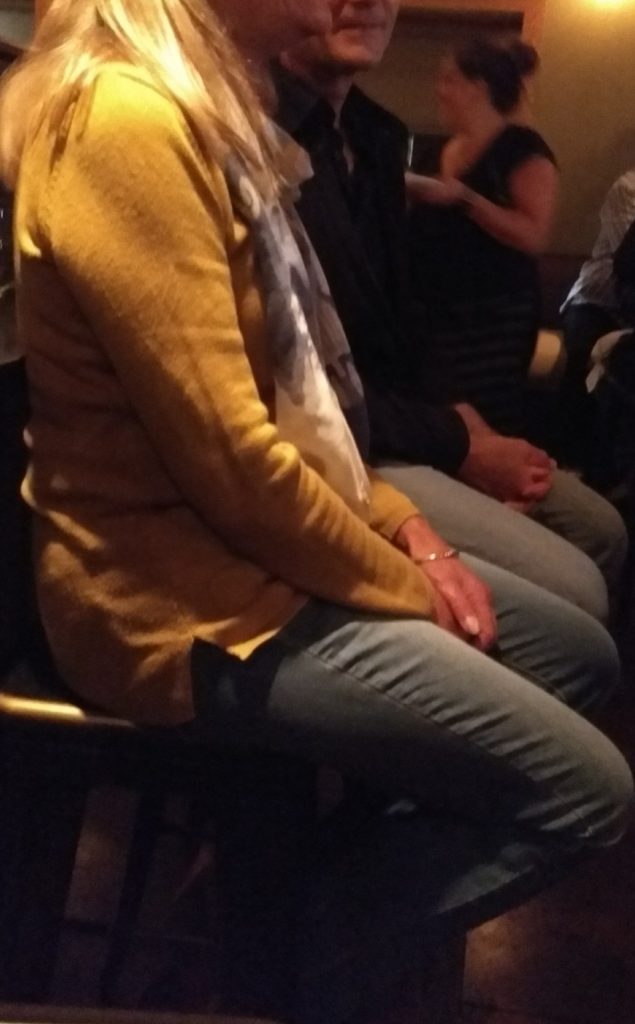 …and this cool black/marled color block sweater with a shirt collar peeping through at the neckline in a preppy-chic look (which sadly you can't see; there's only so much surreptitious outfit snapping I can do without actually stalking people):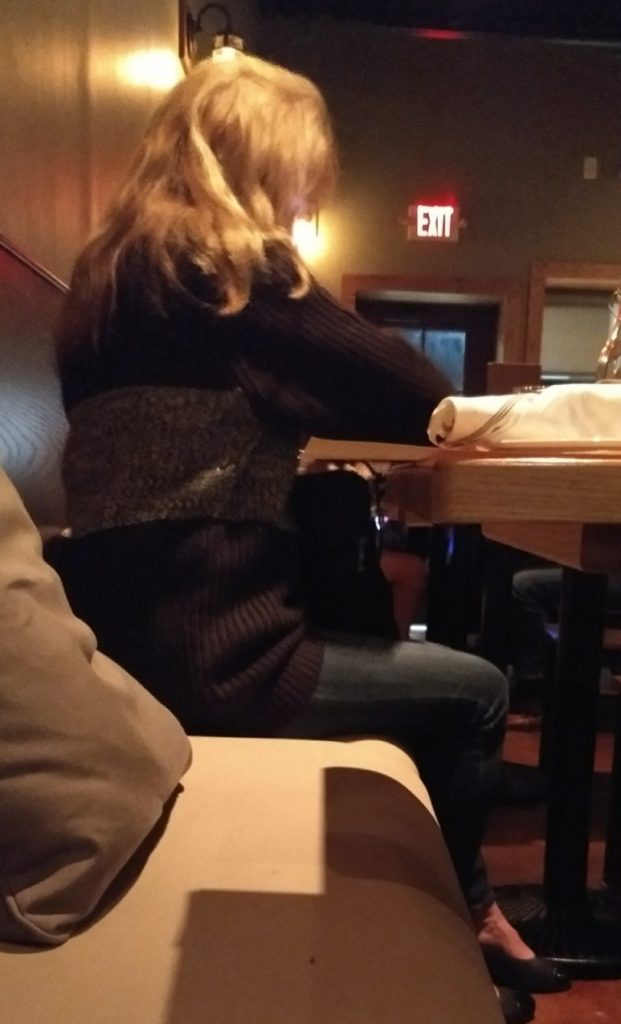 Although Bostonians are fun to observe as they dress for fall, my conclusion is that it's the women of coastal NH & Maine who have fall style down to a science. I am but a mere babe trying to follow in their footsteps; here's to the fun of trying to emulate their laidback autumnal chic!