Last week I stumbled upon two different posts about adding some fall to your wardrobe when you live somewhere that's still way too hot for pumpkin spice lattes and Halloween candy. (Put that stuff back in storage, grocery store!! It's not even officially fall yet!)
Both UnFancy (Texas) and Une Femme d'un Certain Age (LA) had some good thoughts on the subject and articulated a few concepts I realized I'd already been subconsciously mulling over.
At this point in my life I don't particularly feel that frisson of excitement for fall fashion –  living in the South for the last 9 years has dulled that sensation or at least delayed it until mid-October. But I do start to get tired of bright corals and teal and cerulean about this time of year (this is one of the pitfalls of capsule/edited wardrobes in climates where one particular season drags on).
What's my tonic? Like Susan from Une Femme, I've pulled out a few scarves I haven't used since spring to change up the looks of a dress or two – they're easy to take off and on as I go from chilled office to sweltering car and back. I'm also on the hunt for a sleeveless leopard top (though in a different style from the one she showcases) as a way to get some fall-like colors going without the length or the warmth of a sweater.  (I'm also hopeful this will solve my leopard conundrum!)
From Caroline at UnFancy I'm borrowing the color idea as well – although not the peats and terra cottas she's looking for. (I love all those bold/weathered fall colors on trees but not on myself – sorry mustard; it's not you, it's me.) All across the board I'll lean more on my muted summer pieces and take a break from the bright stuff.  In particular I'm swapping out the above-mentioned corals/teals/ceruleans for some muted reds, greys, and navies.
This Old Navy top is light and short-sleeved while getting a jump start on a more subdued palette: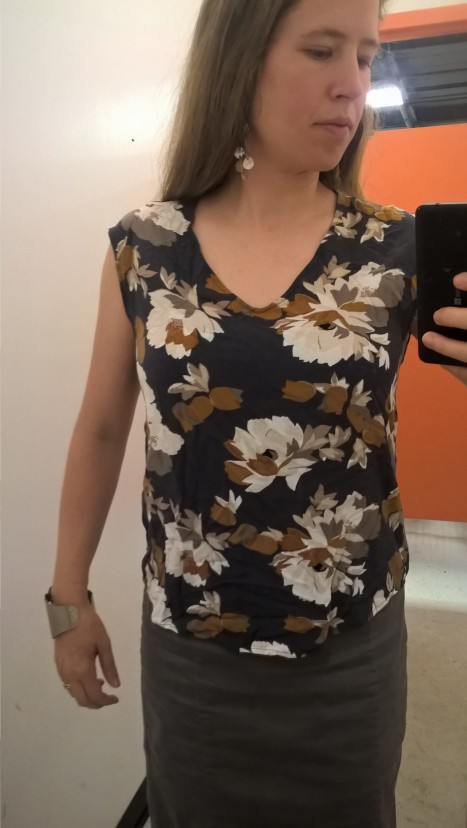 Here's an idea of how it can skew warmer weather (left) and cooler weather (right):
This new-to-me Cartonnier blazer (retail $98; thrifted $10) does red and blue in a less aggressive way than my cerulean/tomato summer faves:
On the bottom half, I'm bringing in the new-to-me navy Uniqlo pants and leaning on my grey cigarette pants while giving my cerulean chinos a rest. (I already did this once last week and heaved a chromatic sigh of relief.)  I'm also swapping out my beloved floral sneaks for these grey Mossimo babies, recently thrifted.  Still canvas and sockless and great for hot temps, but the hue just feels calmer and less shark-jump given the calendar date: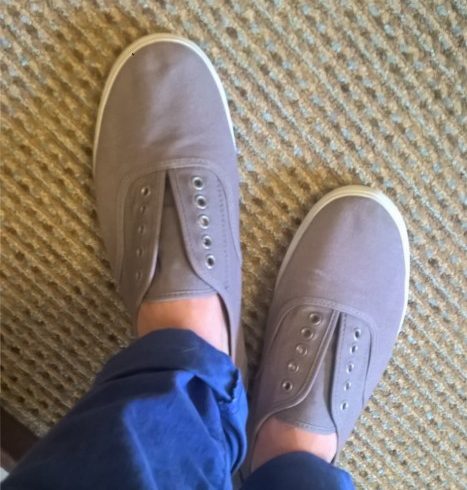 In that same vein, the coral, teal, and bright blue toenail polishes are on the DL; they got swapped out for a color called "Sandstorm" which is basically, well, beige. I hate the boringness of beige with a fiery passion but somehow its bland, calming nature called to me after I couldn't get an especially tenacious mix of teal with white and black splatter off my toes for weeks. (The kids in my toddler's class thought I had gangrene. Okay, so their vocabulary is not that refined, but they definitely knew something was wrong.)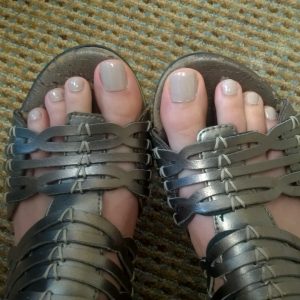 Mmm, more of that great industrial office carpet.
One other thing I took from UnFancy's post? I got my rear in gear and finally took some of my fall things in for tailoring. (The rest will go for a trim after the first batch comes back and I can evaluate the work – I'm trying out a new tailor closer to home.) I also finally bought supplies for a few DIYs that will fit nicely with my fall wardrobe if all goes as planned. Yippee!
Well THAT was a longer than usual Friday ReBlog. Tell me, Thrifters, do you love fall but have to wait longer than everyone else for cool weather clothes?  What do you do to tide you over? Or could you not care less because fall isn't your favorite style season? Scroll down to comment!