Time for a quick retrospective on the summer wardrobe before we turn the corner into fall – or, more accurately, before y'all turn the corner into fall. It's gonna be hot here in Atlanta for awhile yet but I've worn these clothes four and a half-ish months already and I'm probably just as ready to put them away as you all are ready to get your autumn on.
So. Summer review today, and more on what I'm thrifting and wearing for fall tomorrow and next week (including how I'm incorporating little tastes of autumn while still dressing for highs in the 90s).
New stuff I loved:
Navy Uniqlo dress with pockets

The comfort of casual plus the refinement of texture details…and pockets.  This plus my white denim jacket was a go-to for the second half of summer.
Coral sleeveless blouse by Loft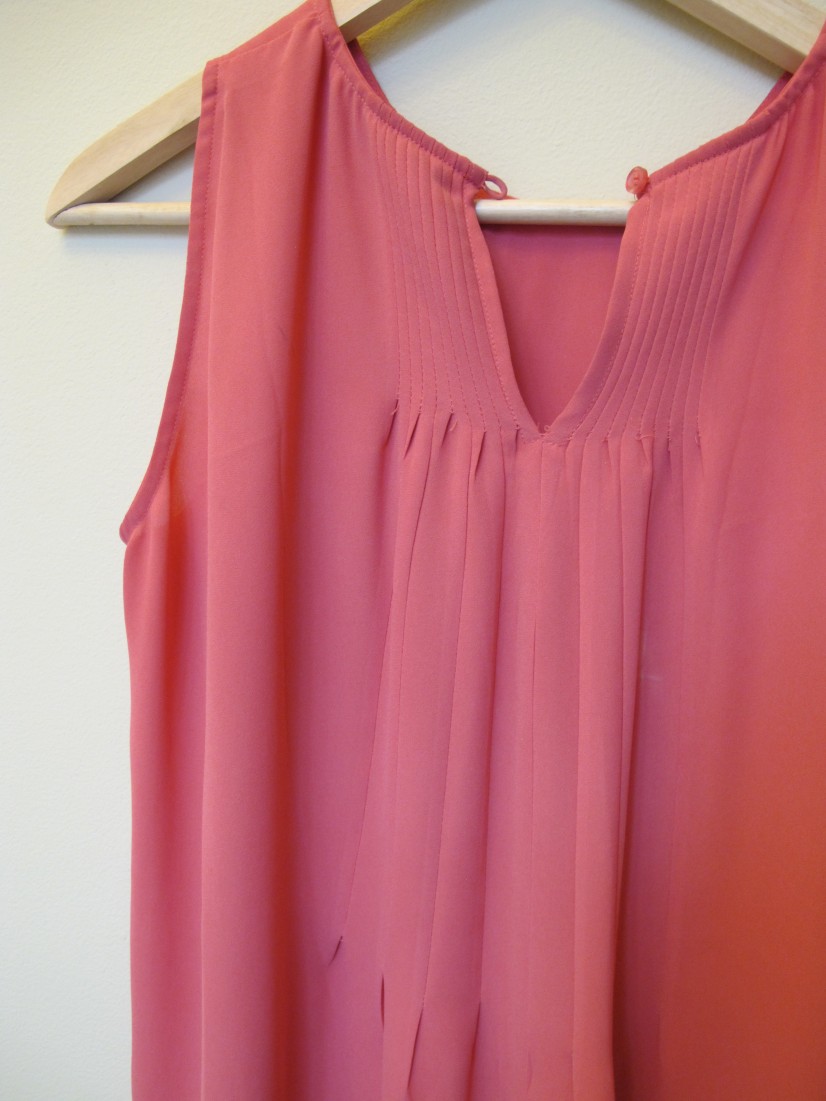 Not positive I will keep this forever and ever because it's just so…pink.  But it paired really well with some taupe or grey to balance it out, and it has the interesting but un-fussy detail I'm realizing more and more is my sweet spot.
Grey Vince Camuto pants
These weren't "new" per se but this is the first full season I've worn them and I just love 'em: the color, the silhouette, the fit, the rise (high enough I don't have to wear a belt but not constricting), and the way they go with everything and dress everything up while still being so comfortable. If I could get more just like 'em in navy, white, etc. (and just a little longer), I totally would.
J. Crew navy skirt
This skirt was on probation this season but totally earned its spot on my "core" roster. It was more comfortable and chic than I remembered and went with pretty much every top I threw at it (and I haven't even paired it with all the possibilities yet!). I decided this summer that I'm pretty happy with just a couple skirts and that I can love skirts in warmer weather and eschew them come winter. (I wouldn't say no to one more in white, though, for those hot days when a fresh pop of white just makes you feel cooler but pants are too much.)
Gold lame top from Zara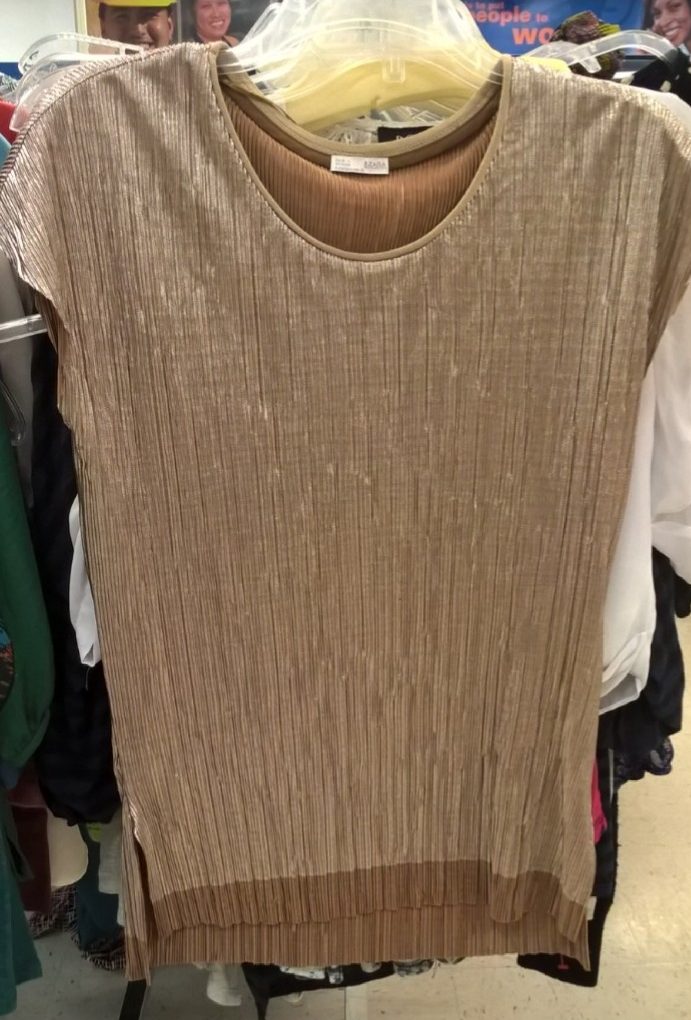 I only got this last month but it's already a winner and will transition fabulously into fall (and maybe even winter!). The golds both pick up colors in my hair and the darker gold along the bottom anchors it a bit so I don't look like a disco dancer at work. I love the cut and the funky pleats and that it's just different enough from what else is out there.
White denim jacket by J. crew
The perfect topper for overly air-conditioned environments. Good proportions and construction.
Meh
Coral shirt dress by Chetta B
Only got worn twice; I didn't hate it but it doesn't feel completely "me" either (so much for branching out from my sheath silhouette!).
Split maxi dress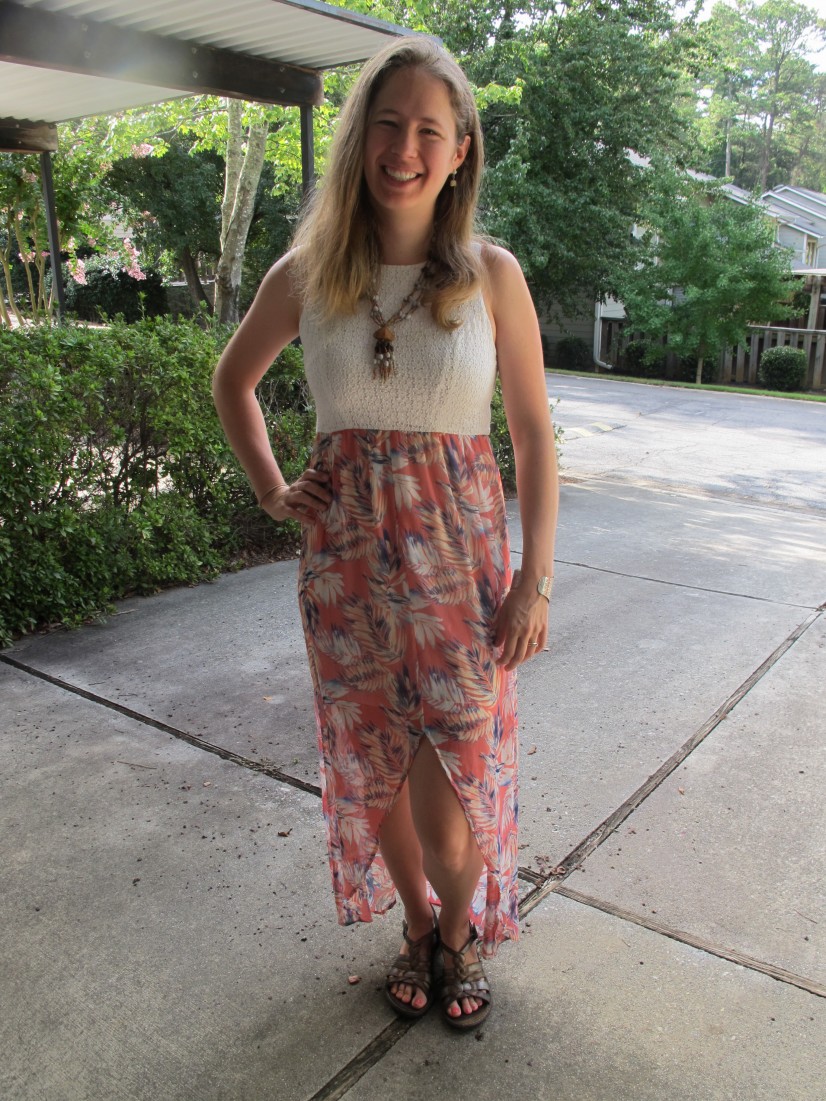 For me, this is an occasion piece – the kind of dress I can imagine wearing to a summer wedding or out for drinks. Except drinks are always "in" these days and all the weddings I get invited to I also officiate – so a dress with a bold pattern and a slit all the up the side is a little…unnecessary. #dontupstagethebride. Now if I could just convert that fabulous print into a stretch cotton twill skirt…
For both of these last two, it's not that I'd never wear them again, but I hate the thought of having something take up closet space that will get worn once, maybe twice a year.  It goes against my whole closet strategy and every time I think about it, I snag on it mentally like some kind of sartorial hangnail. You know what I mean?
Blue Loft tank top
I love the detail on the neckline here – makes it not just a plain basic – and I did appreciate having something casual and sleeveless for those realllly hot days. But this blue is a little too purple for me and it clashed with the workhorse shorts in my weekend wardrobe so it rarely got worn. I think I'll look for a tank in a better color next year.
J. Crew rugby dress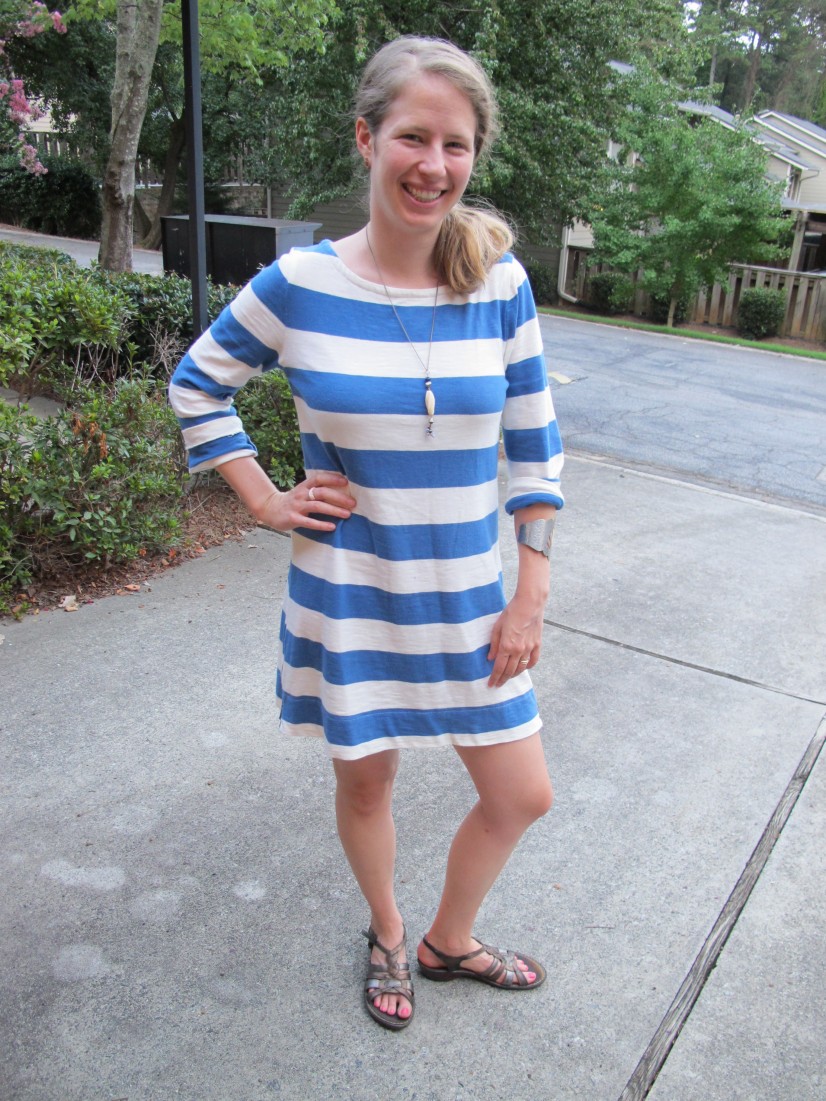 This is hands down the comfiest dress I own – I'm not sure what the knit is but it feels like pajamas in the best way.  That's also what makes it feel too casual for my work week wardrobe – plus it's a tad too short and pairing it with leggings makes me feel like I'm dressed for an Oprhan Black binge instead of a day at the office. If I lived, say, by the ocean and north of the Mason Dixon line, I think this would be a star. Alas, one of the keys to maintaining a minimal-ish wardrobe is to focus on clothes for the lifestyle you have, not the one you want, so I think I'll donate this back unless I move to Nantucket in the next 3 weeks.
Navy silk Talbots dress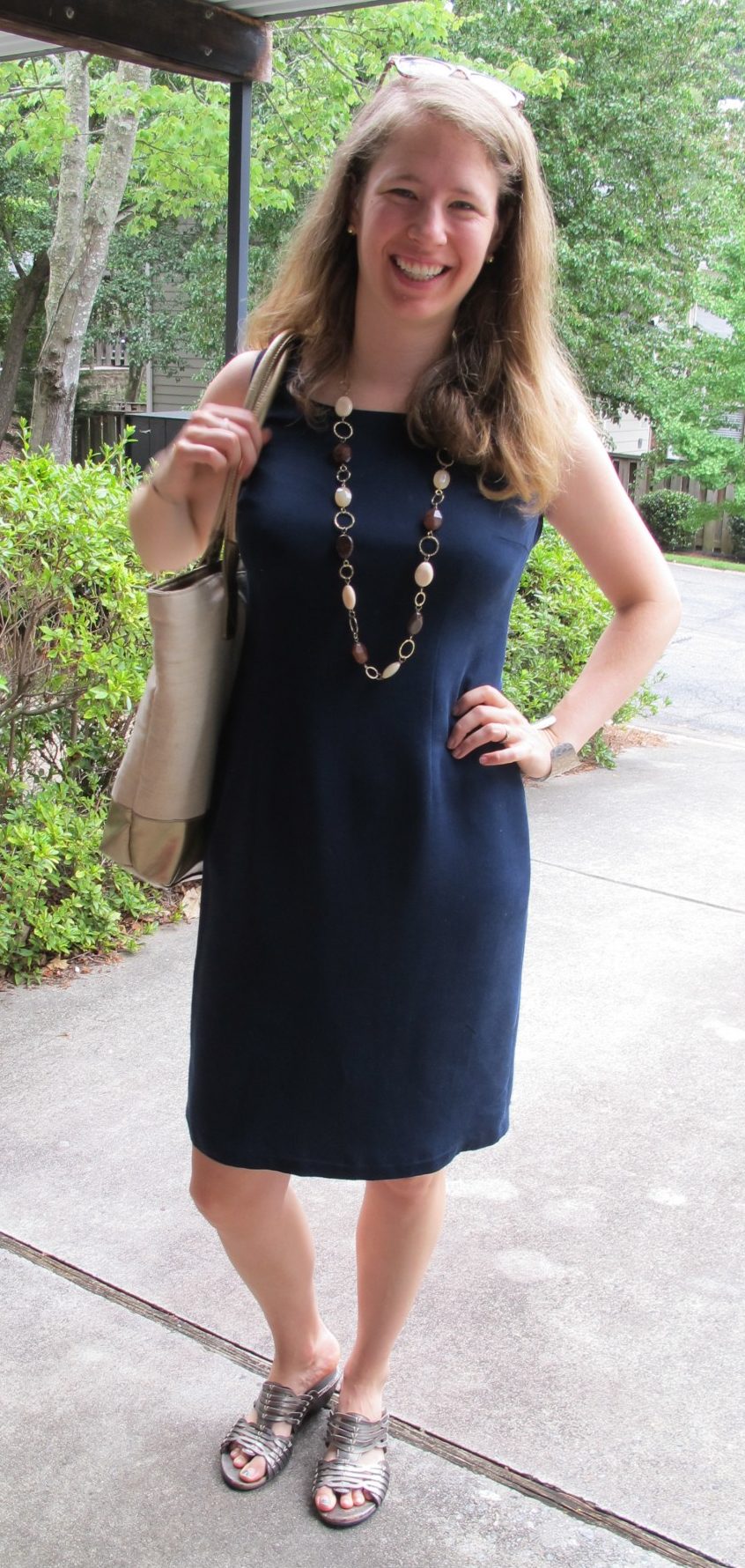 I wanted to love this more but it 1) was really dark navy (perilously close to washout territory); 2) cut into my armpits just enough to be annoying; and 3) gathered all sorts of lint after a delicate wash (aka I am probably too lazy to own silk). I think I'll keep it until the beginning of October to officiate one of the aforementioned weddings and then donate it back to someone who will appreciate its elegant understated nature more than I do (= hand wash it).
What new finds have turned out to be all stars for you this summer? And what ended up needing to be sent back to the minors?  Oooh, now I'm tempted to write a post on my September call ups…  #toomanybaseballmetaphors #sorrynotsorry #CubsHAVECLINCHEDTHEDIVISION !!!!!