In honor of the World Series…Congratulations Royals!!!
Ours is a baseball family–our kid's first baseball game was at 6 weeks (unless you count the one in utero…) and we all own hats and t-shirts of our respective teams.  We follow the Red Sox and the Cubs (gluttons for punishment, anyone?) and enjoy games live, on tv, on the radio, on our phones…there's something special about the steady rhythm of pitches, at bats, and innings punctuated by the excitement of incredible sporting moments and the magic of beating long odds (see: Red Sox 2004, 2007, 2013 and Cubbies…well, next year??  Wanh wannnnnh).
What does this have to do with thrifting?  Normally nothing (other than that my and my kid's Red Sox outfits were both thrifted.  My spouse is very jealous of this).
But a few weeks ago, while watching the Cubs face off against the Cards, the Spouse was talking about the sunk costs of investing in certain players and then feeling like you have to hold on to them even if they're not doing well, because you already spent a bazillion dollars on their contract.  Rick Porcello's 4-year, $82.5 million contract extension—partly responsible for Jon Lester now playing for the Cubs—comes to mind.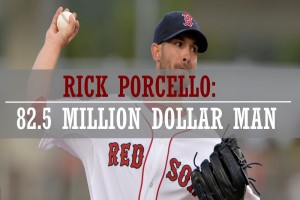 And then he said, "You should write a post about sunk costs.  With thrifting."  When I asked for more, he said, "You know, if I bought a $7 pair of pants and they're not quite right for me, I'll still hold onto them because I paid $7 for them."  He then reflected that this might be a principle that applies more concretely to shopping in general (e.g. if you spent $70 on some pants you'd be MUCH more likely not to give them away…), but since we mostly thrift in our house, $7 was his frame of reference.
If you've already invested money in something—whether $7, $70, or $170—you'll be tempted to hold on to that item because it makes you feel like your money is still WORTH something.  But here's the truth: if ya ain't wearin' it, it's got zero value for ya anyway!
It's all another way of saying:
Don't throw good closet space after bad.
List an item you don't love but are hanging on to for sunk-cost reasons on eBay, ThredUp, or at a consignment store to recover part of that value. Or, use it to create new emotional value for yourself by passing it to a friend whom you know will love it or donating it so that someone else can love it.  Marie Kondo's thoughts on this are very helpful in this process: thank a piece for teaching you something (I don't actually wear that color/style/type of garment; I already have/am enough; I live a different lifestyle than the one in my head…), then free it to go make another thrifter happy.
And now to decide if Lester's subpar post-season performance is a sunk cost we're willing to absorb or if it's time to let him go…ahh, baseball…
Have you ever had trouble letting go of something that wasn't right for you because you paid so much for it?  Does this way of thinking about clothing investments help free you up to let things go?  Scroll down to comment!