Way back when, my friend Sheena asked for a post about how to winterize your wardrobe.  Many of you are heading from the pleasant, crisp, colorful wonderland of Fall into the time of nasty winds, chilling rain, and grey skies I like to affectionately call November.  And some of you Northerners have already seen snow (perish the thought!).  So it's high time to tackle her question.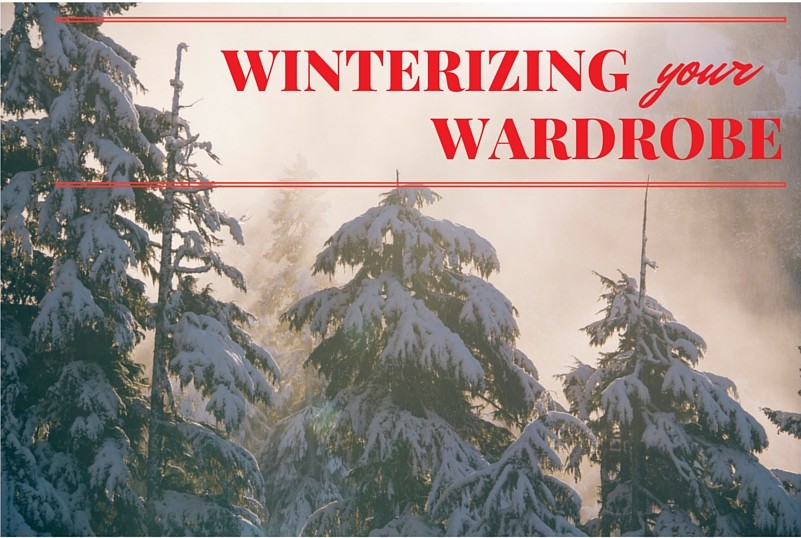 Ya dig the slightly 70s Winter Wonderland vibe?
When you are creating a capsule wardrobe (read: curating your closet so you own only things you love and wear), one of the benefits is having fewer clothes to clean/maintain/fold/store.  To double down on that benefit, it makes a lot of sense to bridge some of your warmer weather clothes into fall and winter.  Fewer overall items to care for, and fewer $$ out the door!  Read on for my tips on how to make it happen.

With skirts and dresses, tights and/or leggings are your friends. They're an easy way to keep your legs snug while re-wearing some of your warmer weather dresses.  They are also good for layering under pants when it's REALLY freezing out.
As discussed here, leggings are getting easier and easier to find in thrift stores.  I don't like how tights tend to cut me off in the middle, so I haven't looked as hard for them at the thrift store, but I would be willing to bet tights would fall into two categories: 1) thrifted because they have holes—avoid; and 2) thrifted because they're brand new and never worn.  Score!
Similarly: layer under your sleeveless tops.  I do this mostly with dresses; it's a great way to add warmth and a pop of contrasting color to your short-sleeved or sleeveless numbers and extend their viability into the colder seasons.  Bonus points for layering chic and toasty turtlenecks!  IG shot of this look coming soon.
Cardigans, wraps, and capes, oh my!  These warm over-layers are the easiest way to extend your short or 3/4-length tops into another season, particularly if you don't want to stop wearing your favorite top simply because it's gotten cooler.
Look for merino, cashmere, or cotton knit, depending on the level of warmth you need; avoid cashmere/silk blends, which pill. Choose a color/pattern that will go with most of what you plan to wear: if most of what you wear features solid colors, a pattern will pop nicely, and vice versa; if most of what you wear features bold colors, choose a neutral, and vice versa.  I have 2 or 3 for variety and versatility.
These are abundant in thrift stores; you just have to find the color, style, and size you want!  Luckily, thrift stores make it affordable to try a new style you're not sure about.
Boots, particularly the calf/knee variety, keep your legs warm and add some automatic cold weather chic.
If you are going to really wear these out, don't settle for the cheap Target ones; hunt until you find real leather (or high quality non-leather) in good condition.  Black boots are all over thrift stores; check that "special price" section. (Pro tip: at Goodwills, the great shoes are often split between a behind-the-counter extra-special space and a special section of the regular shoe rack.)  And keep in mind that it's relatively inexpensive to get your boots re-soled or water-proofed at your local cobbler; if you find really great boots you'll want to take care of them!
Silk or wool base layer.  Layer a lightweight slip or camisole under your top and tuck it into pants/skirt or smooth under a dress to provide an extra slice of warmth while keeping your silhouette unrumpled.
You may find camisoles in the sleeveless shirt section (sometimes stocked at the beginning of a size division), but also take a look in the pajama section.  Experiment in the changing room to see if the material you're wearing and the slip or camisole you want to layer cause friction.
My silk camisole makes this cozy top with open-knit details warmer and work-appropriate:
What are your tips for winterizing a warm weather wardrobe?  Scroll down to comment!