The thrift gods must have been having a laugh the day I posted about loving popover tunics, because as I was bending over to put my kid in the car seat after work, I heard an unmistakable rrrrrrip in the region of my shoulder blades. I was wearing the popover tunic I had had tailored just a few weeks before, and sure enough, it now had a big tear right down the back placket.
Sigh.
It had been just a touch tight in the shoulders; nothing to suggest rejecting it at the thrift store or to cause discomfort during the many wearings since, but I guess I can't be completely surprised. And it was 100% cotton, nothing synthetic that shreds easily….but it was also a Target brand, so I shouldn't have expected stellar quality.
Still, it's the first time I've ever rent a garment in mid-wear. (Thank goodness it wasn't pants, in hindsight. Ahem.)
Photo evidence: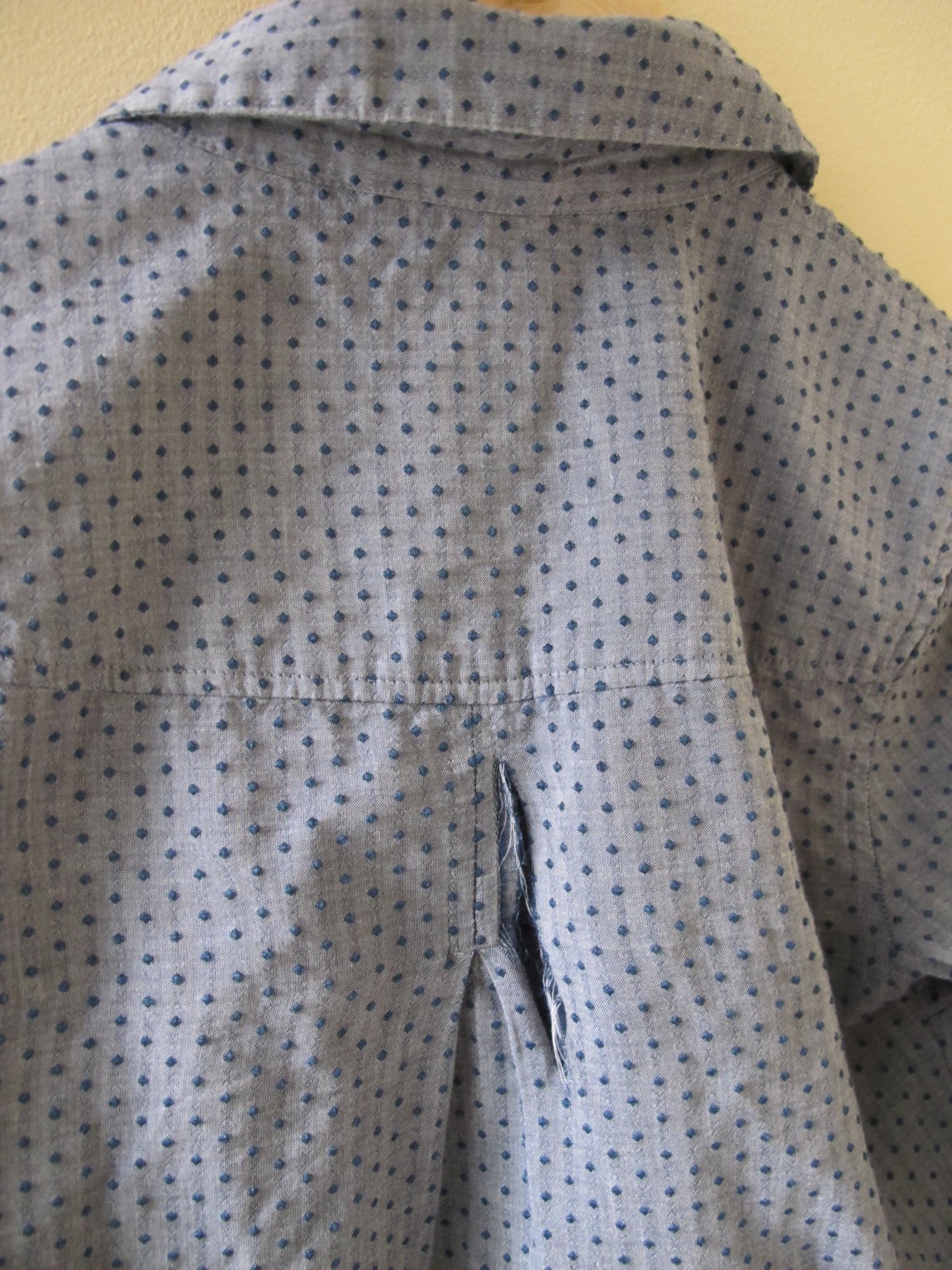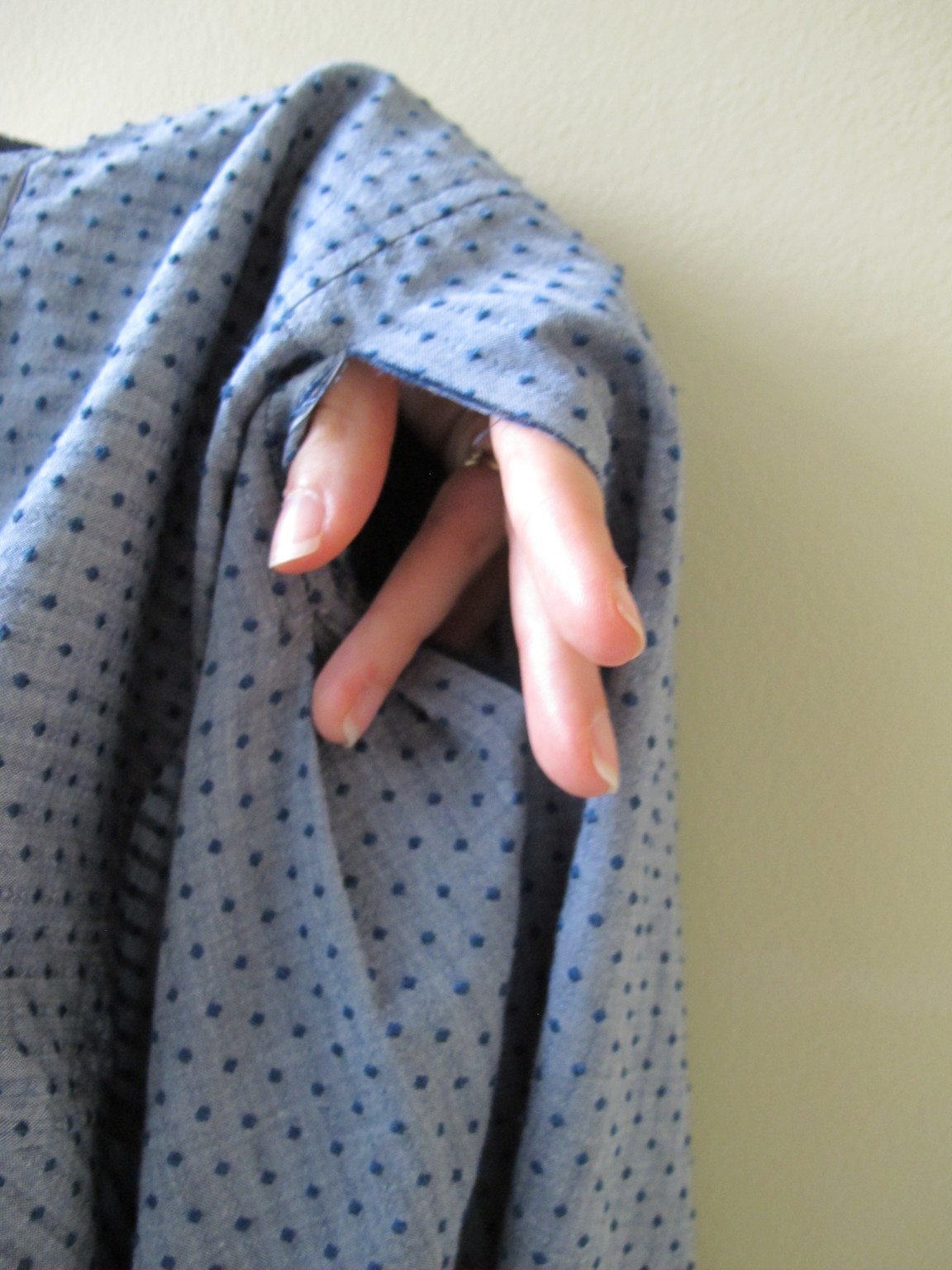 That's a pretty sizable hole. And given its location, there's no way to patch that sucker without making the garment even tighter, thus setting myself up for further disappointment.
(I'd like to blame this on popover tunics' strange sizing—have you noticed this? I do NOT normally wear an XS but 2 out of the 3 other tunics I have are XS or sz 0. This is probably because they are supposed to fit like…well….a tunic…. instead of like a blouse, which is how I wear them. So I guess in reality it's my own damn fault.)
The upside of thrifting something from a big box store, though, is that you are likely to run into more of the same piece, possibly in the same size. (I've recently spotted my blue/green ikat Old Navy shirt's doppelgängers in two separate stores.)
So wouldn't you know it, last week on a speed thrift visit with my family (the spouse took longer than I did for pretty much the first time in our entire married existence!), I found the Exact. Same. Shirt. In the Exact. Same. Size. But this time it was in its original form— a shirt dress, as I had suspected: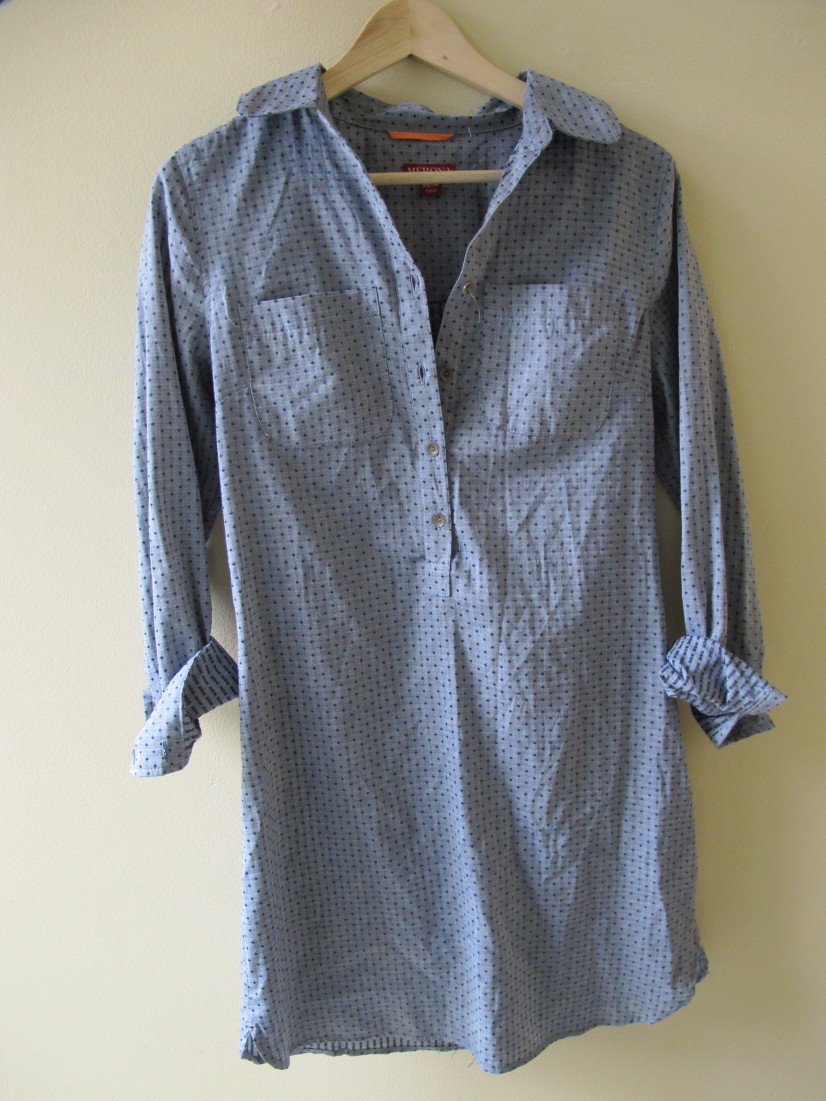 I grabbed it, knowing it would fit without having to haul my toddler into the dressing room.
Now the only question is: get it tailored again to replace the popover tunic hole (literal & figurative) in my wardrobe, or leave it as a shirt dress for summer work and play?
Given that I have 3 other popover tunics in my lineup, and nary a light cotton dress to my name, I'm going to leave it as is for now and wear with leggings or bare legs, depending on the weather.
Plus, if you think of this as one garment, I've now spent $27 ($6 for original shirt + $15 for tailoring + $6 for replacement shirt dress), and I'd rather not pay for a second round of tailoring. There's only so much money I want to spend on a garment that may, in all frankness, rip on me again.
And there's always a chance I'll spy some other delicious popover tunic to replace this one…
Do you think I'm crazy to buy a duplicate of a garment that's ripped on me once already, even if I'm paying thrift store prices?
Do you have any suggestions for reinforcing the placket seam to prevent a repeat disaster?
Do you like the shirt dress or the tunic version better? Scroll down to comment!