You may recall my first foray into plaid blazer territory:
Last week I found another plaid blazer by the same brand (Merona), same size, featuring some gorgeous blues: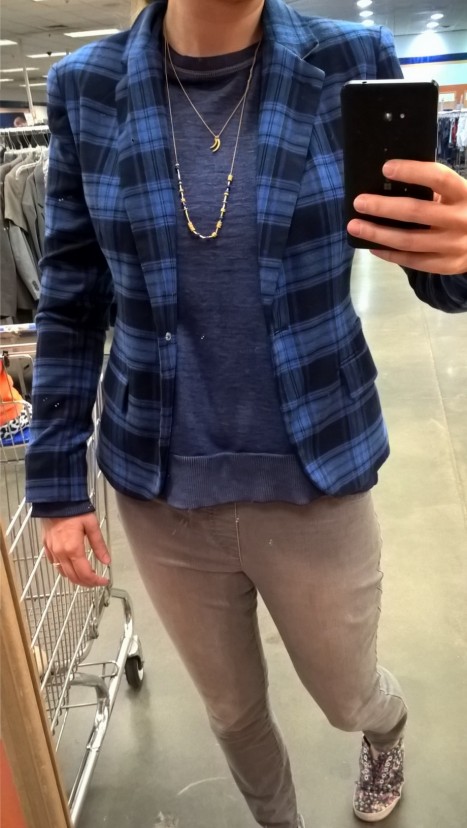 It came home with me, of course, although I wasn't exactly sure how I was going to wear it. Those are some pretty striking hues: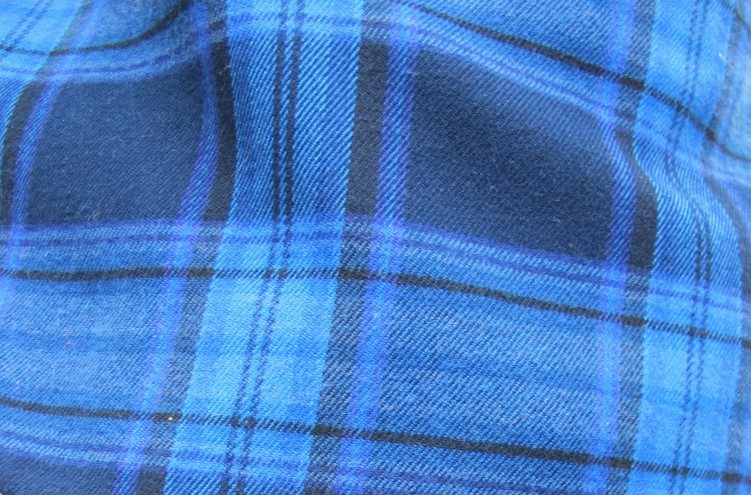 It's hard to tell but some of the skinny lines are pretty much purple.
But I figured I could use it in place of the lint-collecting navy blazer that had lost its shape in the laundry. (Yes, I know, not a good idea to wash a blazer. Sometimes I am lazy and foolhardy.)
My first attempt at creating an outfit with it turned out rather Dionne and Cher from Clueless:
The high contrast plus the turtleneck made for a very 90s vibe. I wasn't really feeling the throwback look and figured I could fix it with a crew neck top, but I was already dressed and was feeling the late-to-work look even less.
I tried again on Sunday, a grey and cool day that practically shouted corduroy and plaid – style notes as you scroll through: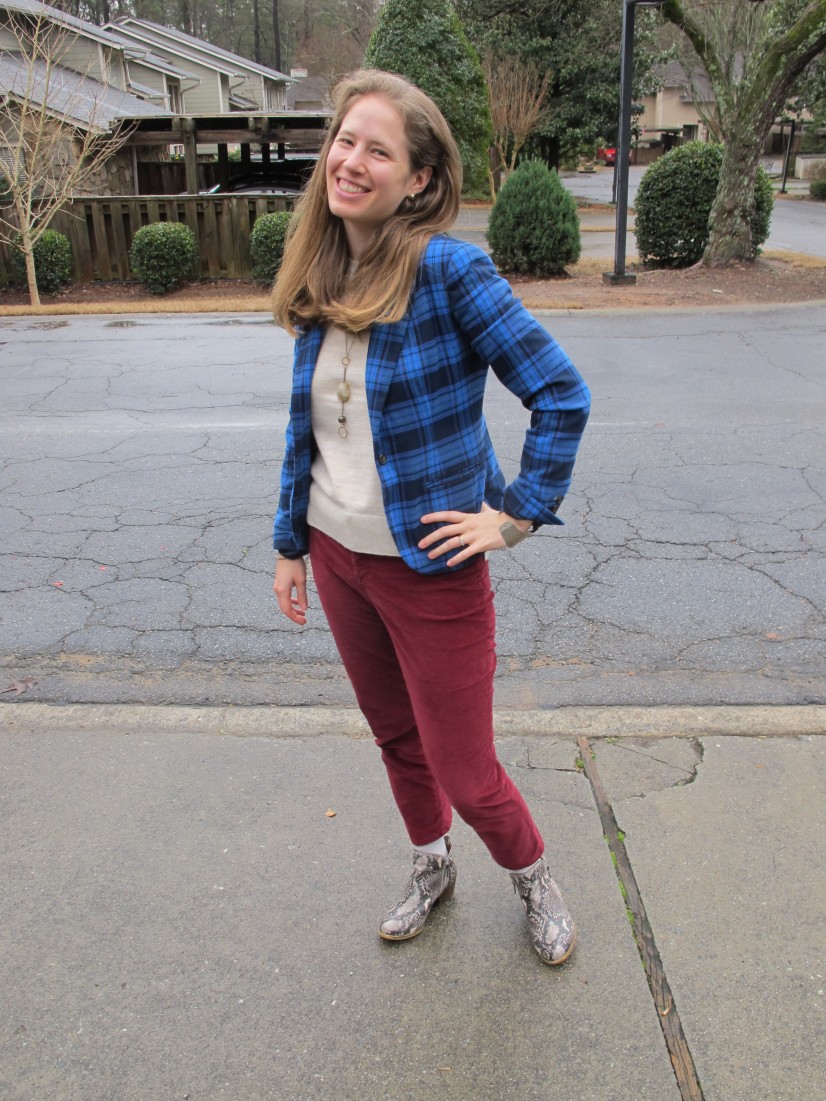 Why is it that Merona blazers fit me better than most fancy-pants brands I find at the thrift store?  Not that I'm complaining…just curious about their spot-on fit, which I associate with higher quality stuff than Target brands.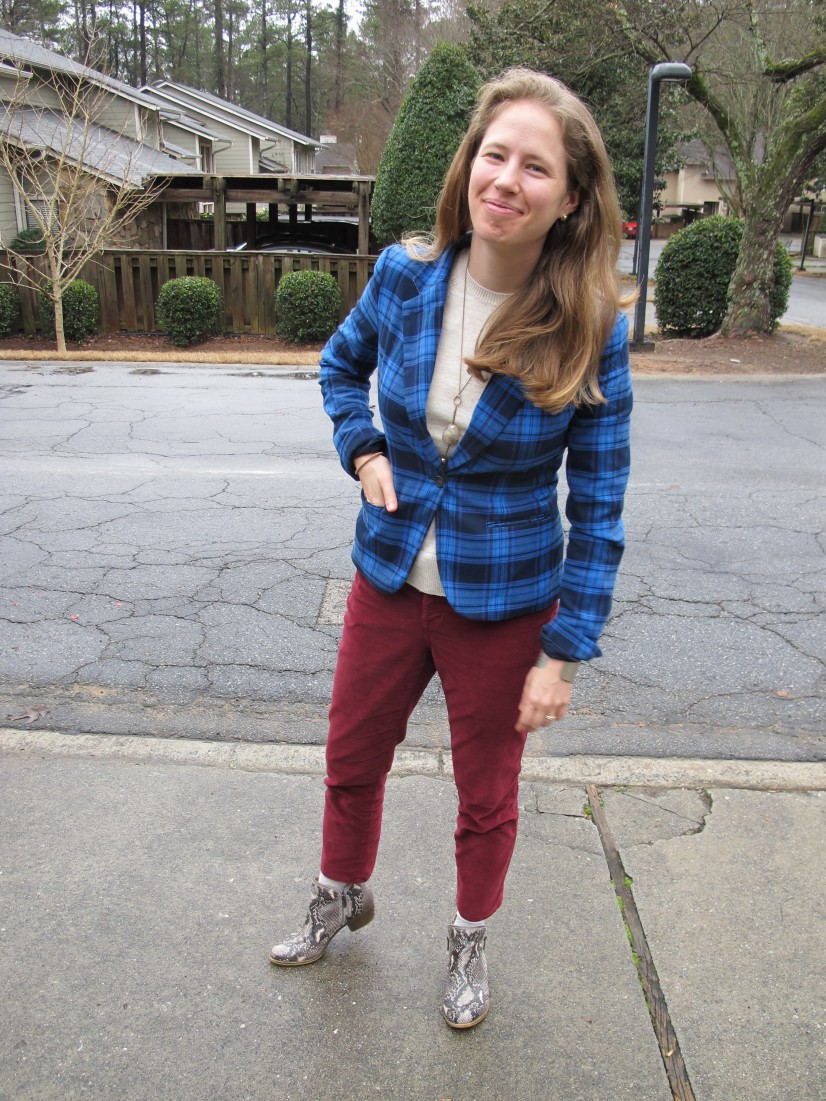 Sweater: Gap Designed & Crafted, thrifted
Corduroy pants: Style & Co., thrifted and tailored (waist taken in)
Blazer: Merona, thrifted
Socks: Target, retail
Ankle boots: Lucky Brand, gift from The Sister
Necklace: DIY from Goodwill finds
This time I think the softer oatmeal shade and the crew neck on this Gap sweater made things a little less eye-popping. The marled texture and split hem on the sweater also gave it a more current feel:
As did the snakeskin print ankle boots: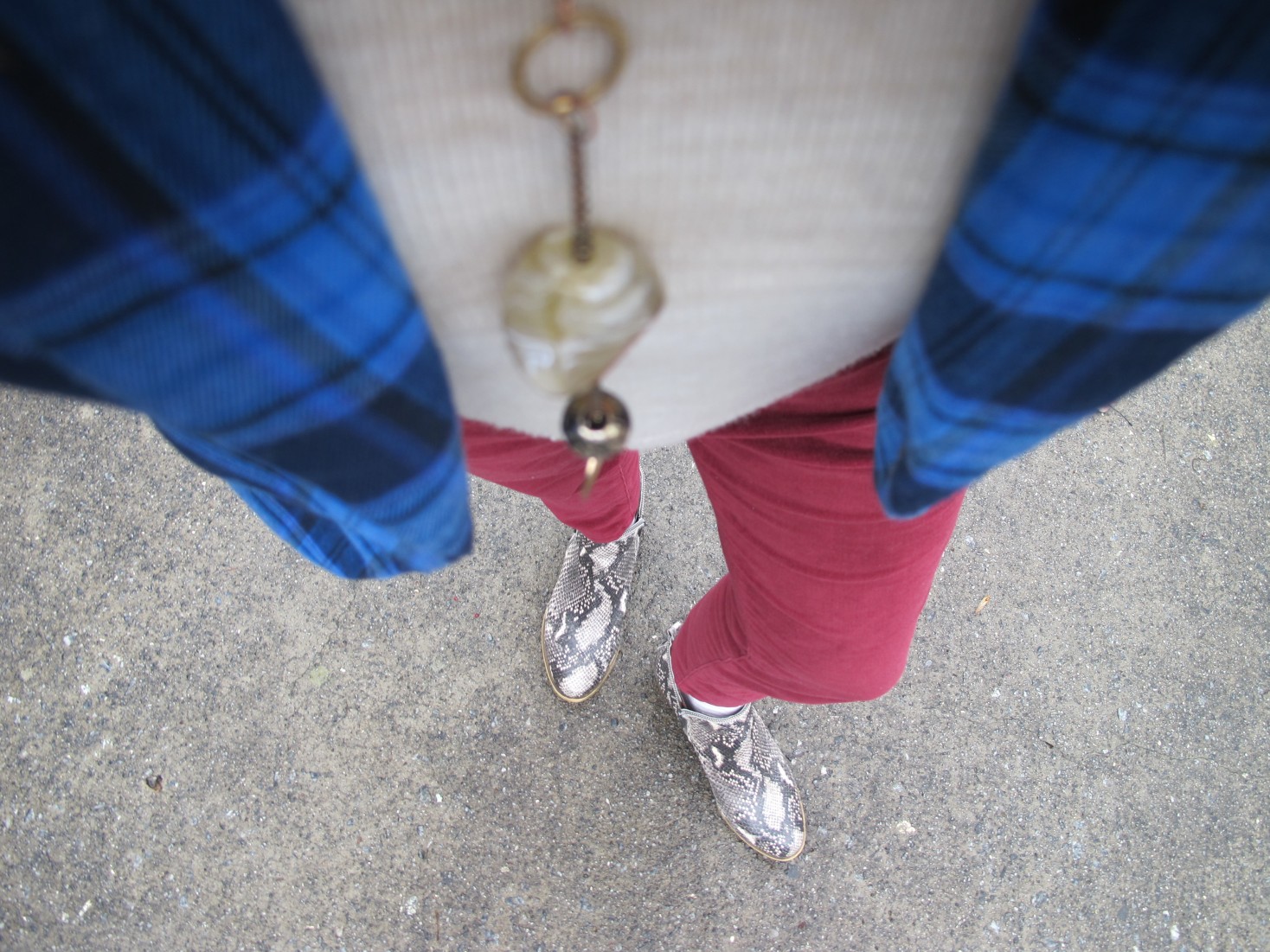 Next time it's truly chilly I'll be excited to pair this blazer with my navy turtleneck sweater to see if tamping down the contrast but leaving the high neck will work as well as I imagine.
How would you wear this bold blazer – if you would wear it at all? Was Clueless a cinematic touchstone of your youth?  If not, what's your favorite stylistic movie reference? Scroll down to comment.