For a few weeks this month I wasn't really feeling the thrift. This, to me, is a sign that I'm happy with my current wardrobe.  Although I am a thrift blogger and it can feel a bit counterintuitive, when I feel this way I embrace it and skip the thrift store because it's a sign that I have ENOUGH.
I held out and waited until I actually felt excitement about the idea of thrifting before I went – and lo and behold that delay coincided with finally finding a couple of blue dresses to tick an item off my thrifting wish list.  So, you know, karma and flow and the universe smiling and all that.
Here are the two dresses:
My first Uniqlo purchase (though I have seen a few of their items in thrift stores before): cotton with a great nautical rope-like detail, a side slit on one side, and POCKETS!
Talbots 100% silk number in navy.  Love the silhouette and length, but it showed a lot of fuzzies etc. throughout the day and I think the color washes me out some.  In the dressing room: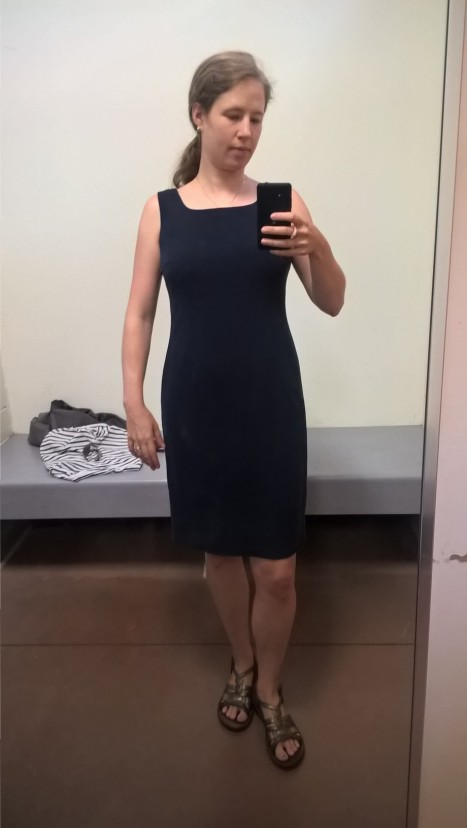 In real life: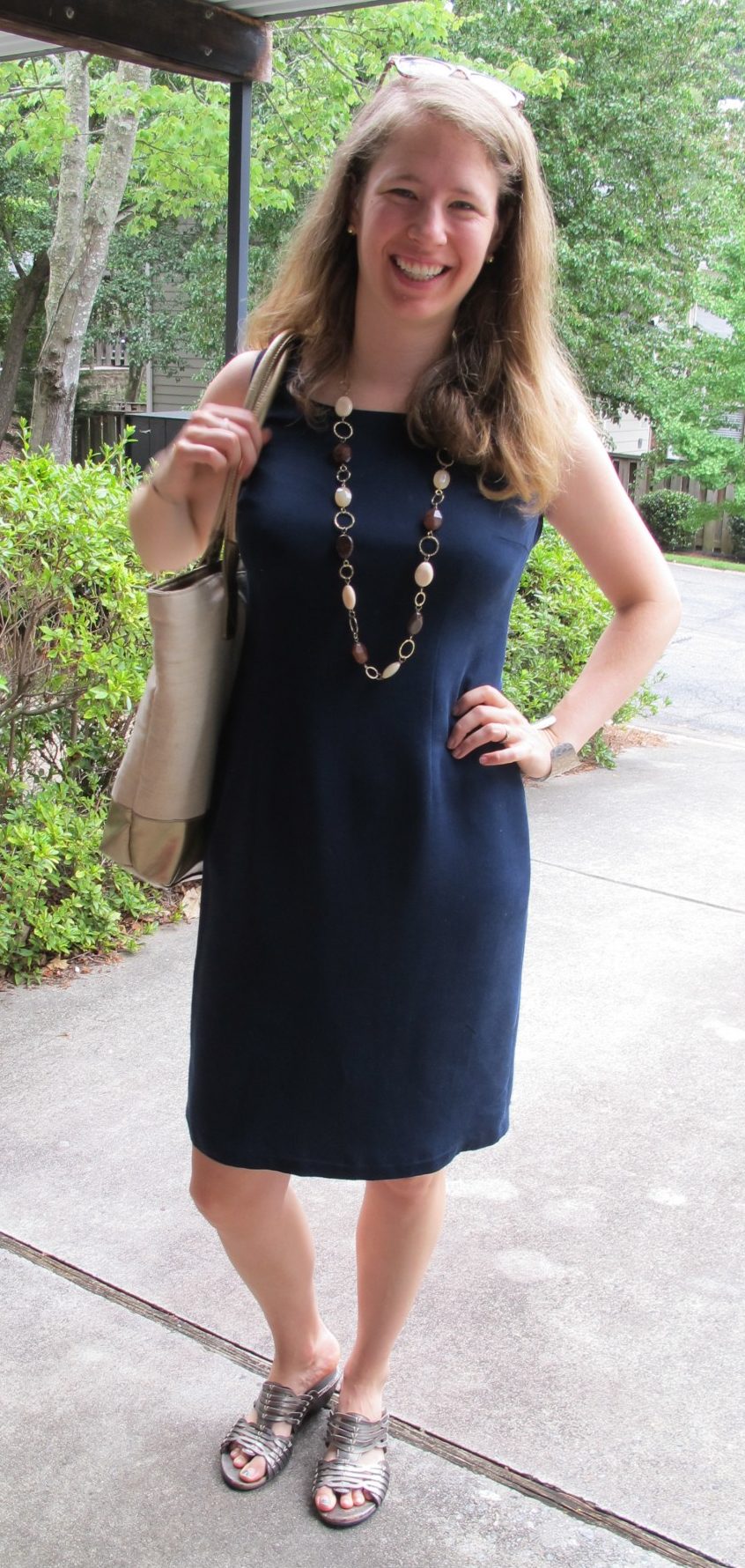 These photos caught shortly before my kid hugged me with a suncreened face, but I soldiered through and dabbed most of it off.  Now time to put my "you can wash silk in the washing machine" advice into practice…
Popping these beauties into my closet made me realize that I've been jonesing for dresses lately – they are chic, super easy to wear, and when not super tight or super polyester they feel GREAT in the sticky summer heat here in Atlanta.
I've also been gravitating to natural fabrics lately – cotton and silk in particular – because they just feel good on my skin and keep me from suffocating in the heat.  (Can we pause one moment, though, to query why someone would line a silk dress with polyester?  If the genius of silk is its temperature regulation, why line it with something that will make you sweat in hot AND cold weather?? /endrant.)
This dress infatuation all led to one more acquisition at the thrift store.  After a second trip where I came away empty handed (though with many Instagram pics – see sidebar –>), which is just fine since it means I stuck to my style standards, I made a third trip and found this coral cotton number by Chetta B: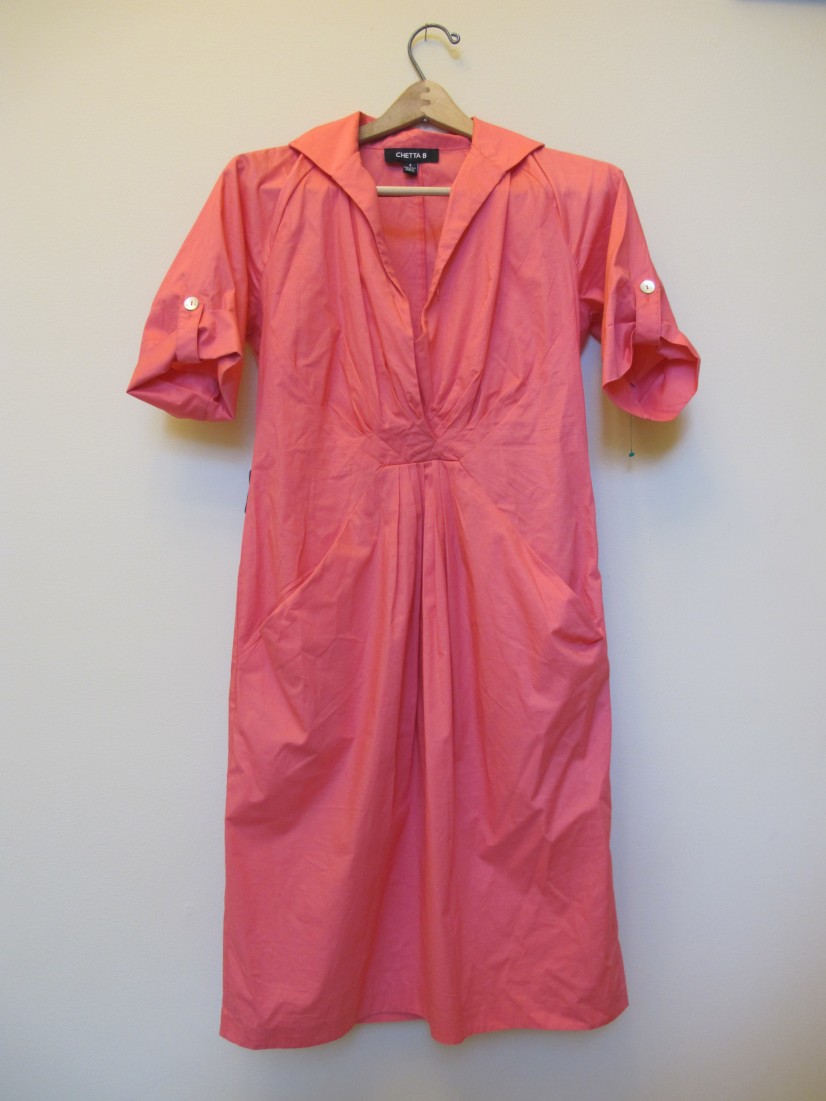 I like the shirt-dress feel, particularly the button tabs on the sleeves and the neckline, and the fact that, unlike many cotton shirt dresses, it has more of a sheath skirt than a full skirt (we know I love my sheath dresses).  And POCKETS!
I'm not sure how I feel about all the gathering detail around the waist – I like my dresses simple so I can make a point/vary them with my accessories, and I think anything other than a simple pendant (and maybe my dove grey belt?) is going to get upstaged by the waist.  Thoughts on how to style this in more versatile ways?
Also, this baby is gonna require ironing, which I hate, mostly because it takes time and I'm bad at it despite my mom's best efforts otherwise.  Suddenly I'm reminded why I like thicker cotton knits like the Uniqlo dress above, or wrinkle-disguising patterns in my thinner cotton frocks… I'll let you know if it's a keeper.
Finally, in the spirit of shopping my own closet and wearing some of the other summer dresses I've been neglecting, I pulled out these two dresses as well, wearing them in virtually the exact same outfits as pictured here (minus the leggings of course):
So I think we can all agree, I DEFINITELY have enough summer dresses; I am determined to put them all to good use through the rest of the summer – aka October 15 here in Hotlanta.
I'm also determined not to buy any more – unless I find a blue dress that is more this color, in which case I will swap it out for my navy Talbots in a heartbeat; yes I'm cruel like that, sacrificing loyalty in the name of fashion – because I have all those dresses pictured above plus this shirtdress I haven't even worn since it got hot. (I'm still looking for non-sweaty half-leggings to pair it with during our 40+ days of 90+ weather.  Maybe I should convert it to a shirt like its predecessor?  I wore that shirt a LOT before it died.)
Thoughts on this dress collection?  Are dresses your go-to in summer?  Should I hem my shirtdress into a dress??   Scroll down to weigh in!