Time for an update on my thrift list – both what I've checked off my last list and what I've added. This is actually self-serving because writing it down helps me remember what I'm looking for when I'm cruising the thrift aisles. But hopefully you'll find it interesting as well.
From the previous list – found
-Soft-structured blazer – Found!



In retrospect I really should have done the "work" pose featured in the poster on the door. #schuylersisters
-Since this will be the season of turtlenecks, a turtleneck in this color (but not this tight):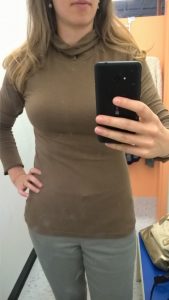 I went for a delicious merino crew neck sweater with 3/4 length sleeves, which just felt good (on my skin) and right (in my wardrobe) – a new-to-me color that's in the tan family but doesn't look sickly on me: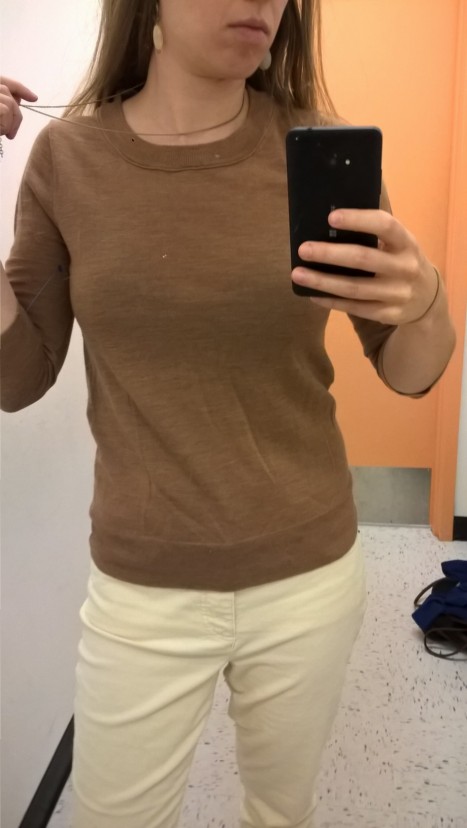 YES to that caramel/cream combo, and also to this combo: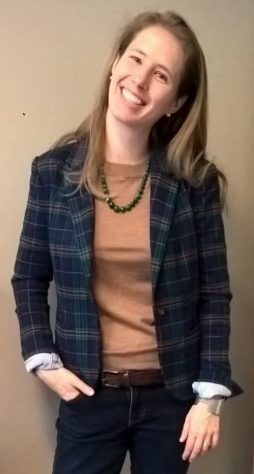 Statement jacket – Found, in spades!  Full post here.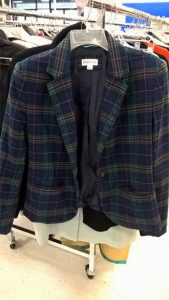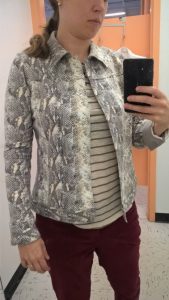 Grey Pumas – Found!  Although they're blue.  But I love them.  Full post here.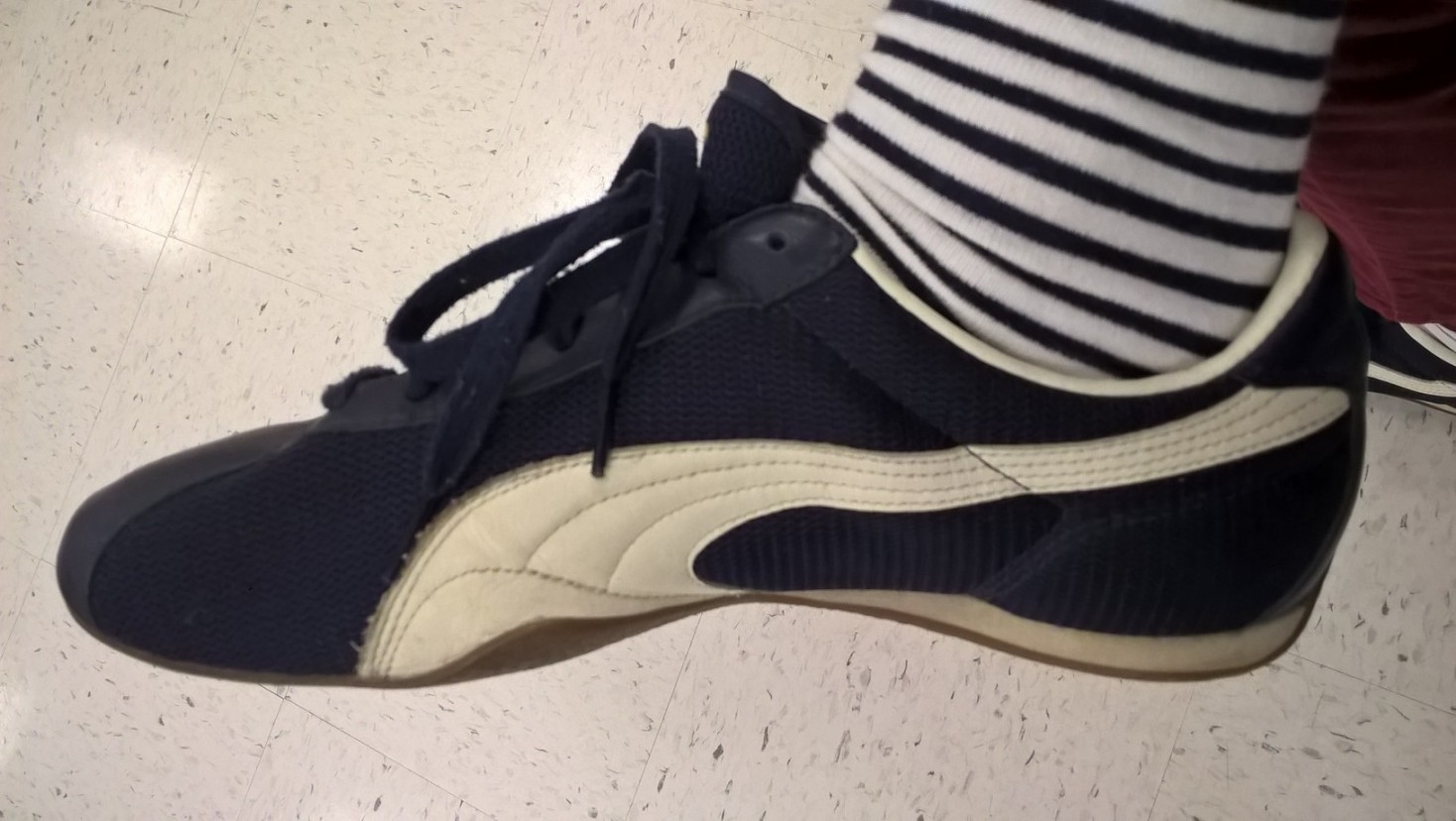 -One or two more thin sweaters that act like shirts; particularly a Donegal tweed version in cream or blue (or juuuust the right red).  I have a feeling this might be a long thrift hunt. 
I did find another thin sweater but it is kind of a heathered cream, not a Donegal tweed, for which I will keep my eyes peeled.  Heathered cream here: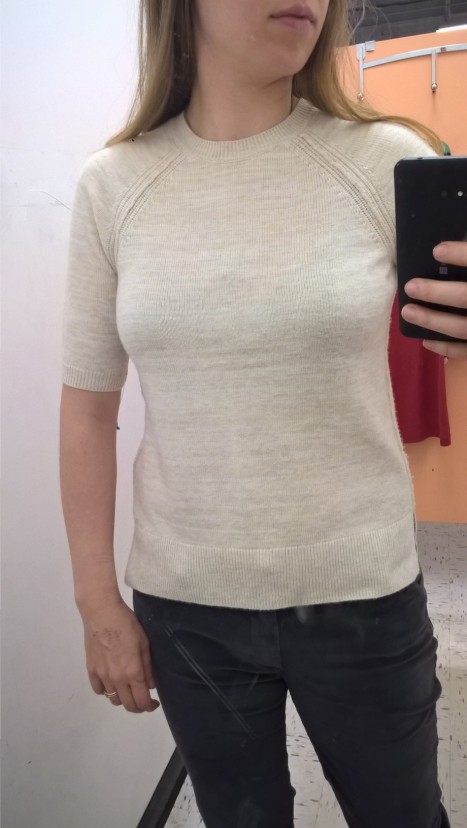 Shot of the awesome split side seams and closeup of the great pattern to come in the Nov/Dec thrift finds post.
-White pencil skirt – found! Will share in the November/December thrift finds soon.
-Sleeveless, collared leopard blouse like this but without cutting off armpit circulation: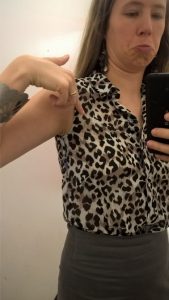 Found! Look at how close this pattern is to what I was seeking, but with dark grey instead of black, which makes it even better, as do the roll-up sleeves which bring it into 4 seasons here in Georgia:


More on that shirt here.
Still looking
-Ivory puffy vest to go over my shirts when it's not cold enough for a full-on coat
Still looking, but did find a taupe version that I will showcase in the Nov/Dec thrift finds
-Old school sleeveless denim dress – still looking
-Silk/nice poly blouse in cream with tiny red polka dots
I thrifted the below shirt months ago for my friend who is afraid red will wash her out, thinking that a sort of chambray-like take on red would do wonders.  I told her she could pass it on if she didn't want to keep it – and she did, which is fine, only now I wish I'd asked for it back to wear it as a version of tiny red polka dots.  #thriftregret  but also #thrifthope because I've found duplicates of other Old Navy shirts often enough that I may yet find this one too.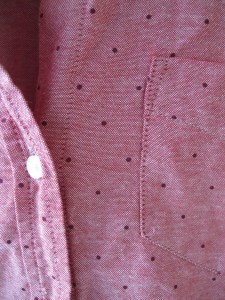 Additions to the list:
-Cream blazer to go over a red dress, a caramel sweater, a blue dress – oh, so many things! – the likes of this Banana Republic one.  It was too small, I cried: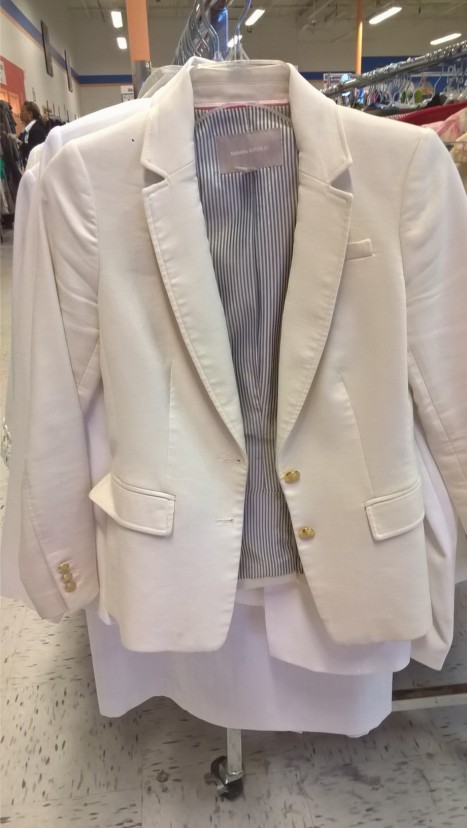 Does this make for an over abundance of blazers?  I think I'm headed for my typical pattern of "get too many then pare it down to what you need."  What can I say, it works for me!
-Riding boots in brown or cognac.  Most tall boots I find at the thrift store are either cheap or heeled (or both) so I may need to start looking at consignment stores.
-Navy blue velvet blazer.  Hoping to find one to replace my wool one – to take the whole look up a notch, as it were.
-Brown leather bag to replace this one which is doing fine in the body – but the arm straps are covered in cheap thin leather that has split in multiple places and they've come out of the body
-Navy polka dot short-sleeved blouse in silk or nice poly because this one has a rip in the back :(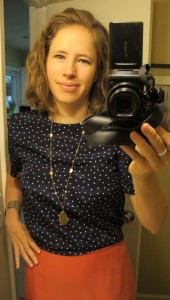 -a cream-based plaid scarf with some red in it to go with/pop my red winter coat; something like this:
The end!  What are y'all on the hunt for lately?  Scroll down to share.