January was a fruitful month.  Let's start with the finds:
Another plaid blazer from Merona, this time in cerulean – such a great combo of navy and bright blue to perk up cold days: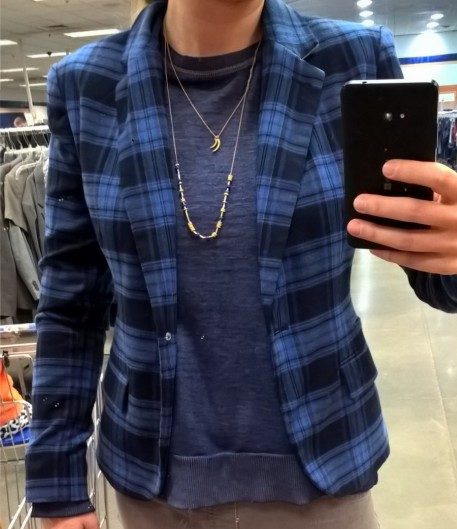 I've worn this puppy several times already.  Here's an example of it in action: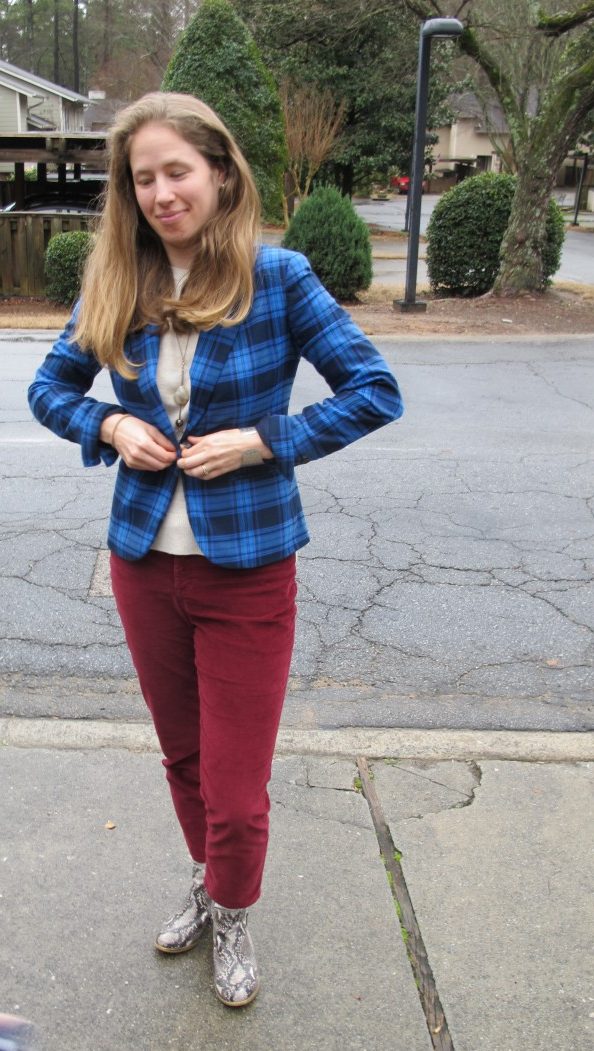 I like including awkward outfit outtakes for your viewing pleasure. 
And again: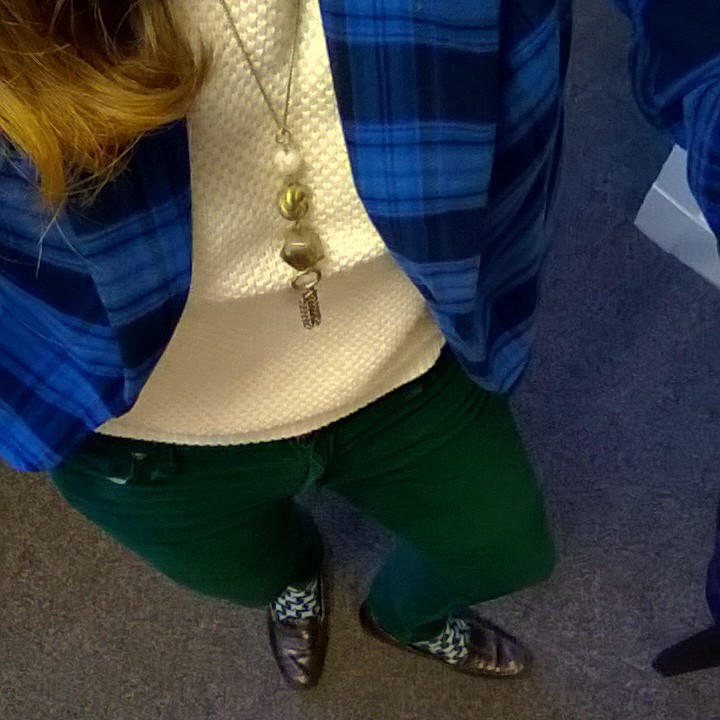 More on the blazer here.
A snow leopard vest from Old Navy, blogged more about here: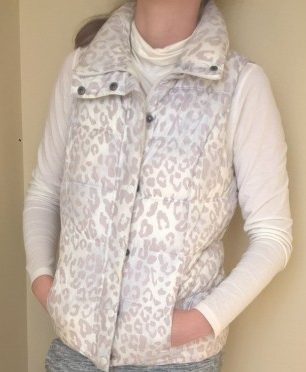 So snuggly in cold temps!
Coach riding boots for one tenth of the retail price; more about them here: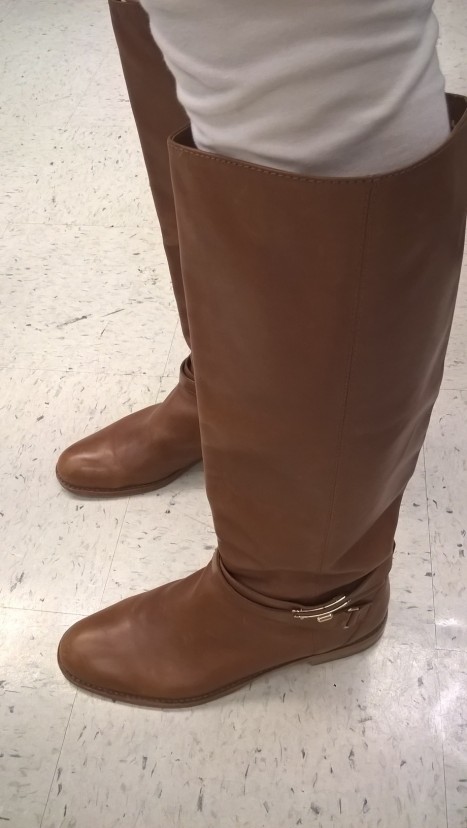 These need some inserts to make the hard soles comfier but so far I'm happy with them otherwise.
Ba-blam: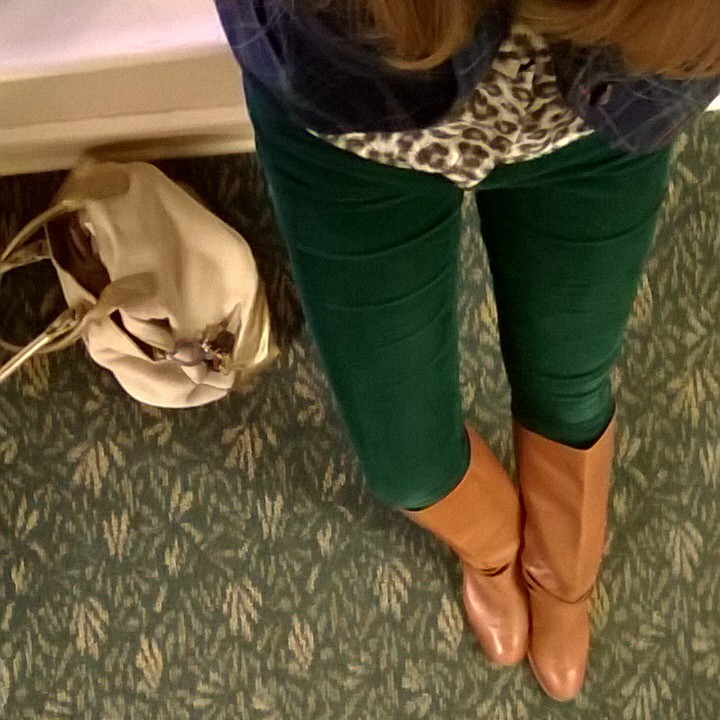 I re-found these metallic pants by Rock and Republic which I had regretted passing up several months earlier:
They fit like a dream. Now I just need to concoct a date night where I can wear them with this:
Bandolino metallic wedge sandals to replace my worn out Clarks (more here):
I've also worn this chrysanthemum cardigan by Isaac Mizrahi Live! (yes yes, a QVC brand – surprisingly good) several times: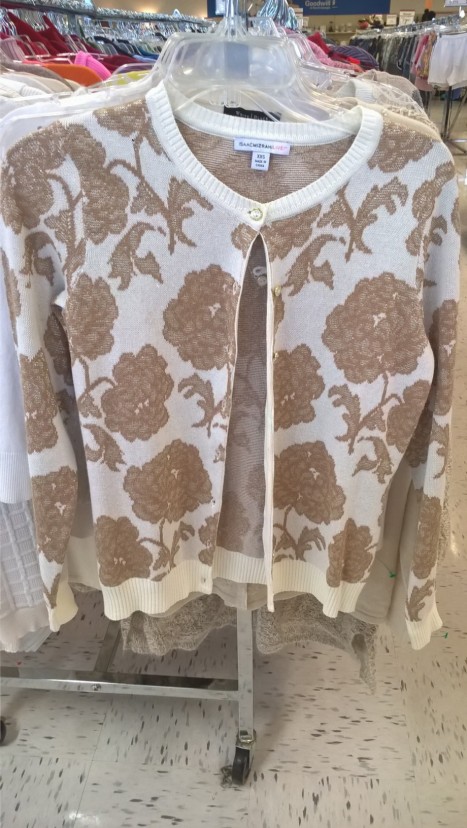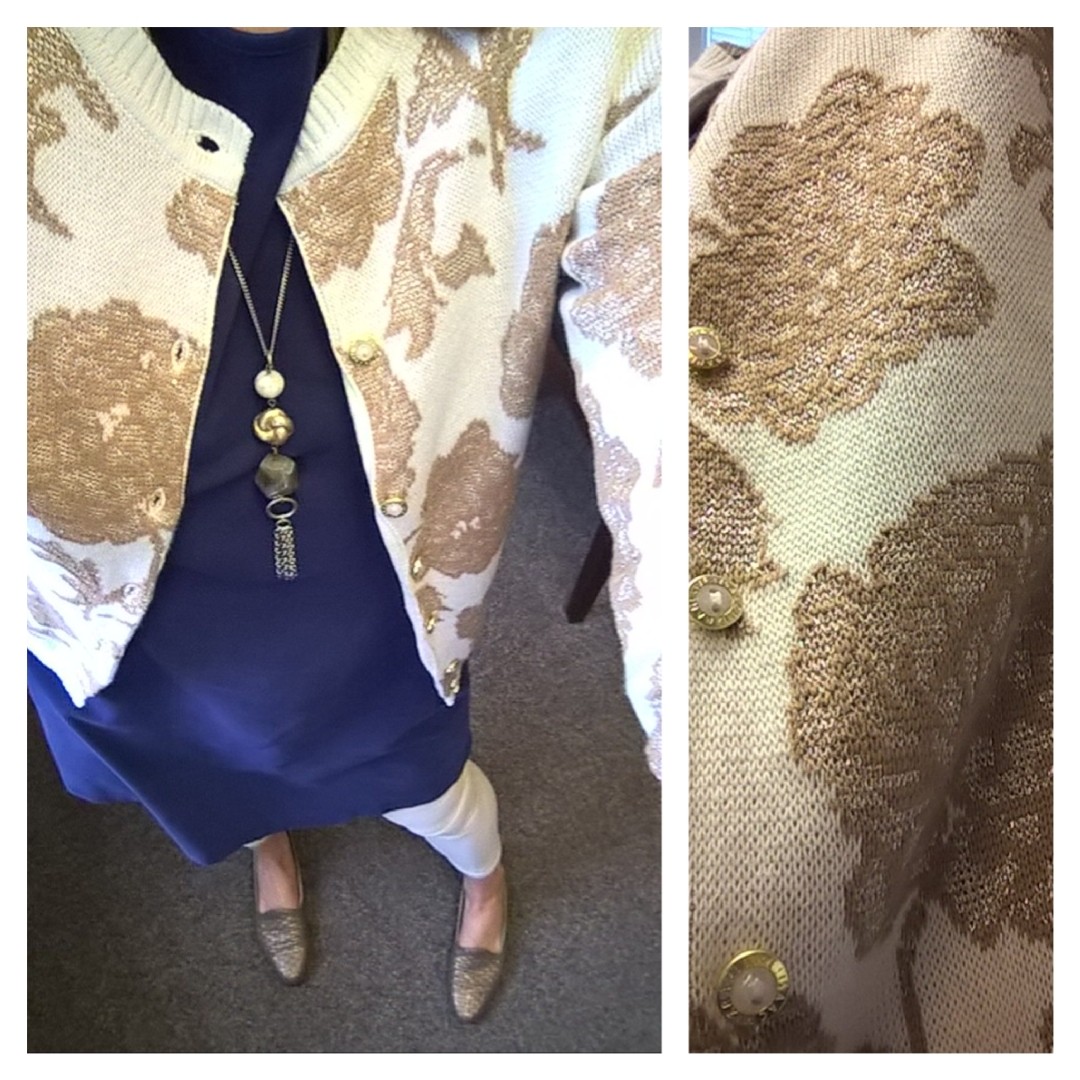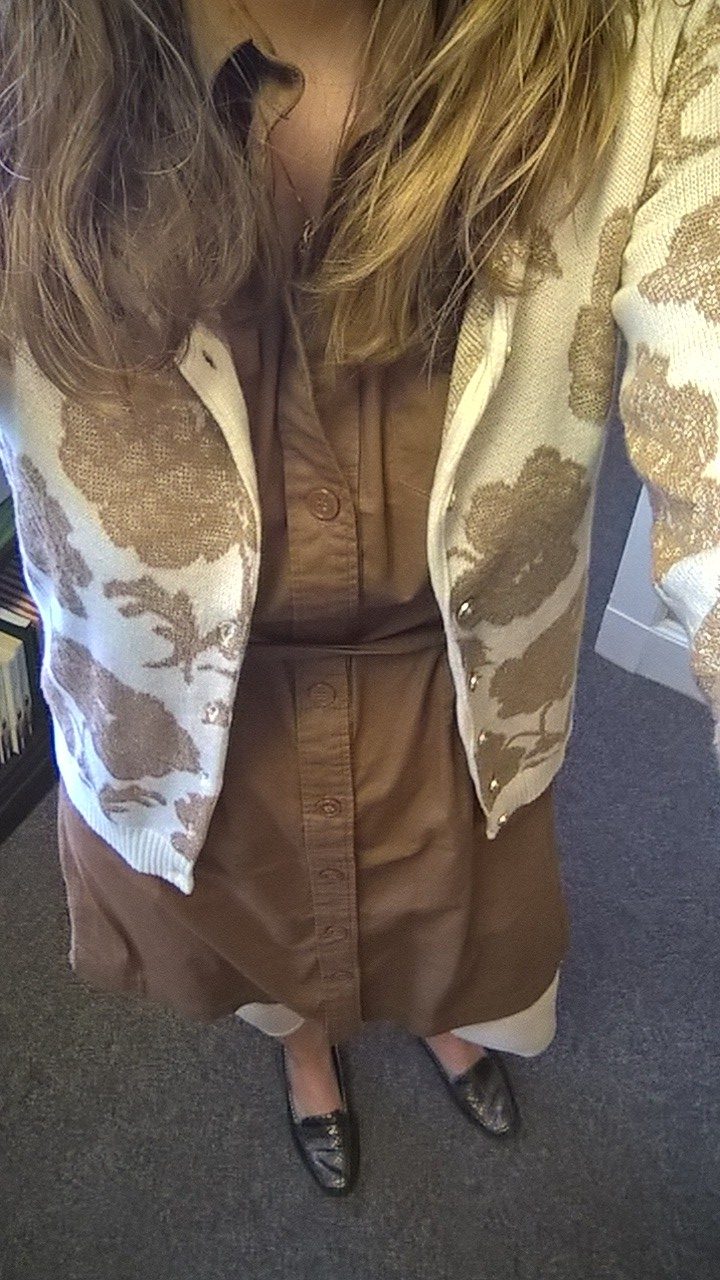 Those chrysanthemums are a lot more metallic/blingy IRL.
After thrifting a muted red shirt for a friend, I've been looking for one, knowing it would go with pretty much all the clothes. This red Banana Republic shirt gets the color just right, is a great blend of linen/cotton and has a much higher quality than the Old Navy one I'd had my eye out for: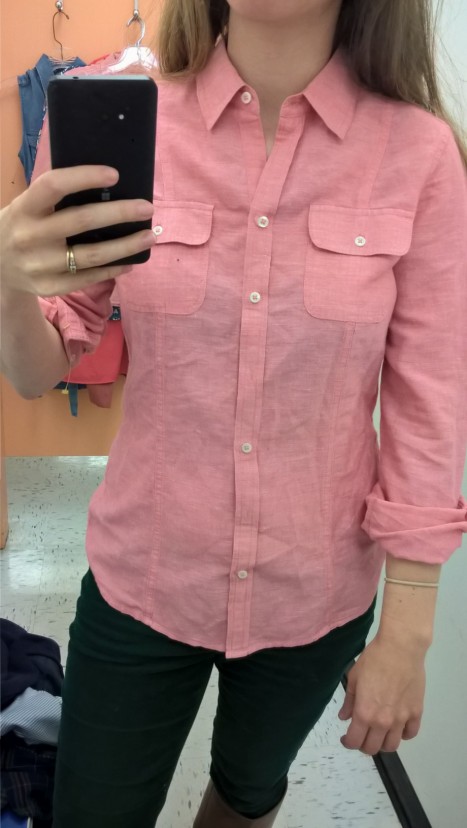 Sorry about those undergarments showing through.  I should better coordinate my lingerie when thrifting.
Excited to wear this come spring (and maybe even a little bit before the end of winter!).
I've had the same two pairs of pajama pants forever – one since highschool and the other, preowned by a roommate, for almost 10 years.  They were both baggy and didn't do a great job of keeping my legs warm.  One day I spotted a man wearing essentially sweatpants but cooler, and it dawned on me that I never felt cold in my childhood when wearing sweatpants with elastic cuffs.  Since these are now popular again (having been rebranded with the fancy moniker "joggers"), I figured I could pick some up at the thrift store and I was right: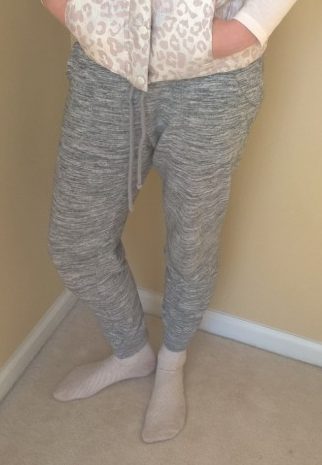 So cozy.  I love that they don't ride up and feel like a sweatshirt inside and the marled fabric makes them cool.  Plus, pockets!  I promptly donated my other two pants to Le Goodwill (after thanking them of course).
At the tail end of the month a thrift-loving friend came to town and we blew through a few thrift stores, including St. Philip Cathedral Thrift House, where I found a perfectly blue casual dress that was just slightly too big – wanh wanhhhh – and this chic little jacket by Kenar:
I like the texture (surprise) and the cut.  I haven't figured out exactly how I'll wear it (apart from over my casual red dress), but I'm sure I'll think of something.  It may replace my snakeskin blazer…
I've been looking for a sleeveless denim dress and really dig this number…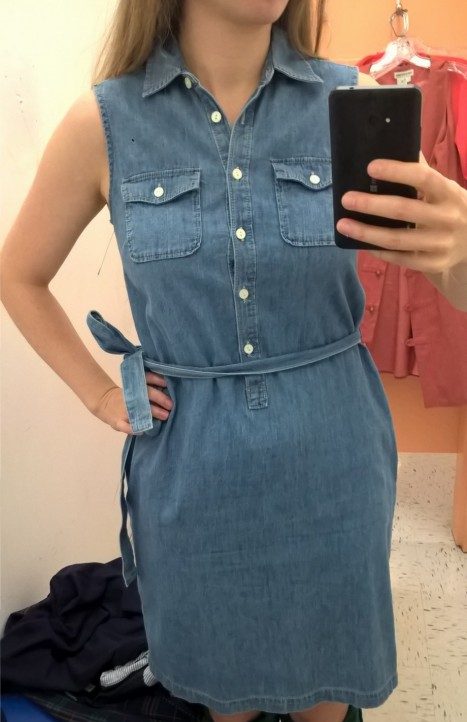 …minus the floppy pockets that add bulk to the bottom half:
But yes, I got it, with plans to have my mother-in-law help my cut off the pockets and sew the seam closer to the shape of my body.  I don't think it will be super complicated but her legit sewing skills will help make up for the fact that I can't remember how to thread a sewing machine.  (Yes I could get it tailored but I'm going for some bonding time instead.)
Blooper Reel
A couple of also-rans in the search for a muted red shirt:
I have a fondness for Lauren Conrad's color palette and patterns (though not for her TV shows):
Looking for a top with some yellow in it since it would play well with the rest of my closet.  This marinière by Gap was not it – it hit funny at the waist.  Too bad 'cause it had a great split hem: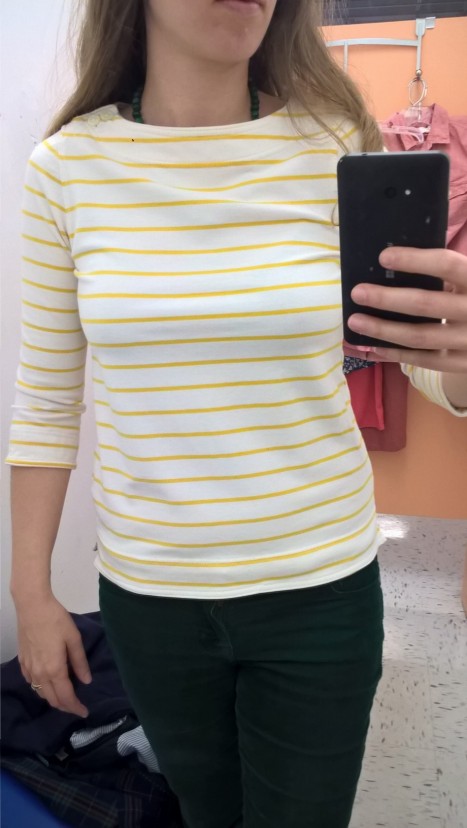 Oh, how I wish this blazer in my favorite blue hue had been slightly less baggy: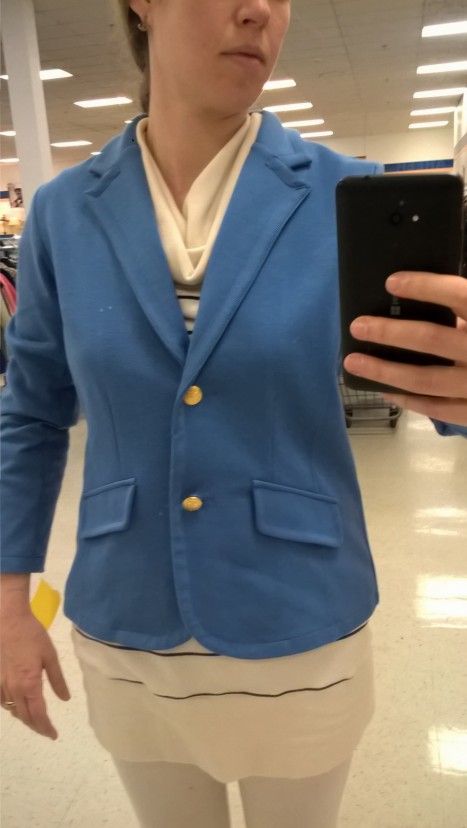 Oh PS, it retailed for $229.  Wanh wannnnnh.  I suppose I could've paid to have it tailored although I don't know how expensive that would be… but sometimes when I find something expensive and pristine I just want to leave it for the next person whom it *will* fit to a tee.  You feel me?
I liked the color on this and the gorgeous buttons but oh hi, that split is getting a little close to my lady parts: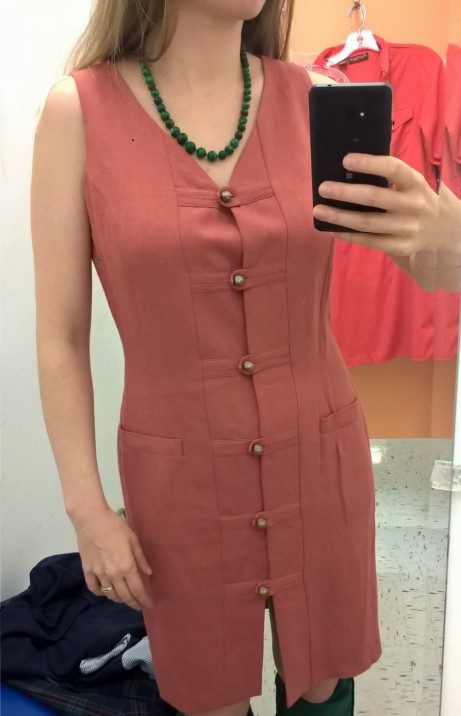 The side view was pretty revealing in the bustal area as well.
This shirt dress with roll-tab sleeves by Speed Control was right up my alley but the color was a little intense and the fabric a little cheap: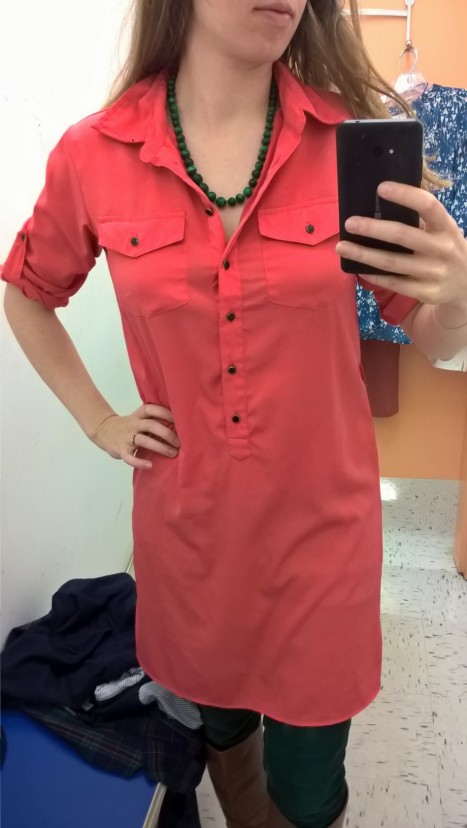 I was so sad about this simple, super-soft, casual dress in my favorite blue also being too big.  It would've been a great blue version of my casual red dress which has paired so well with so many things: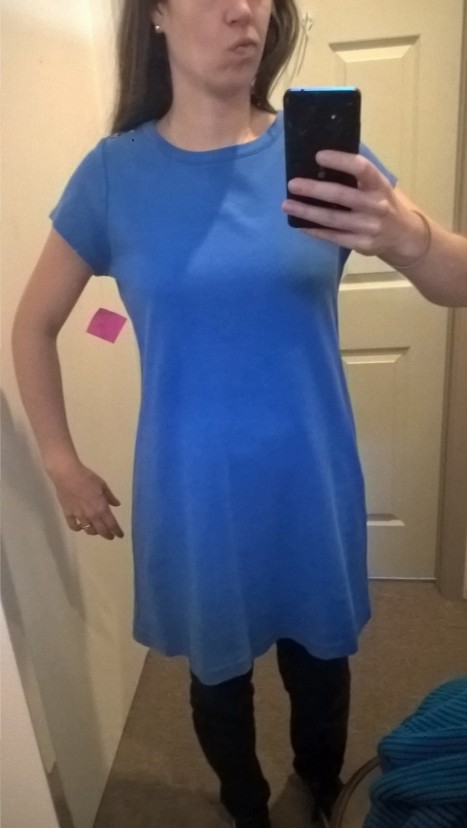 That's it for January.  What did you thrift/skip this past month?