Here are my last three outfits of the Winter 10×10 (which I did wear in sequence, but did not post on in sequence. It's been a week).
Day 8
Buttondown shirt by F by Façonnable
Cardigan by INC
Pants by Elie Tahari
Boots by Lucky Brand – everything thrifted but the boots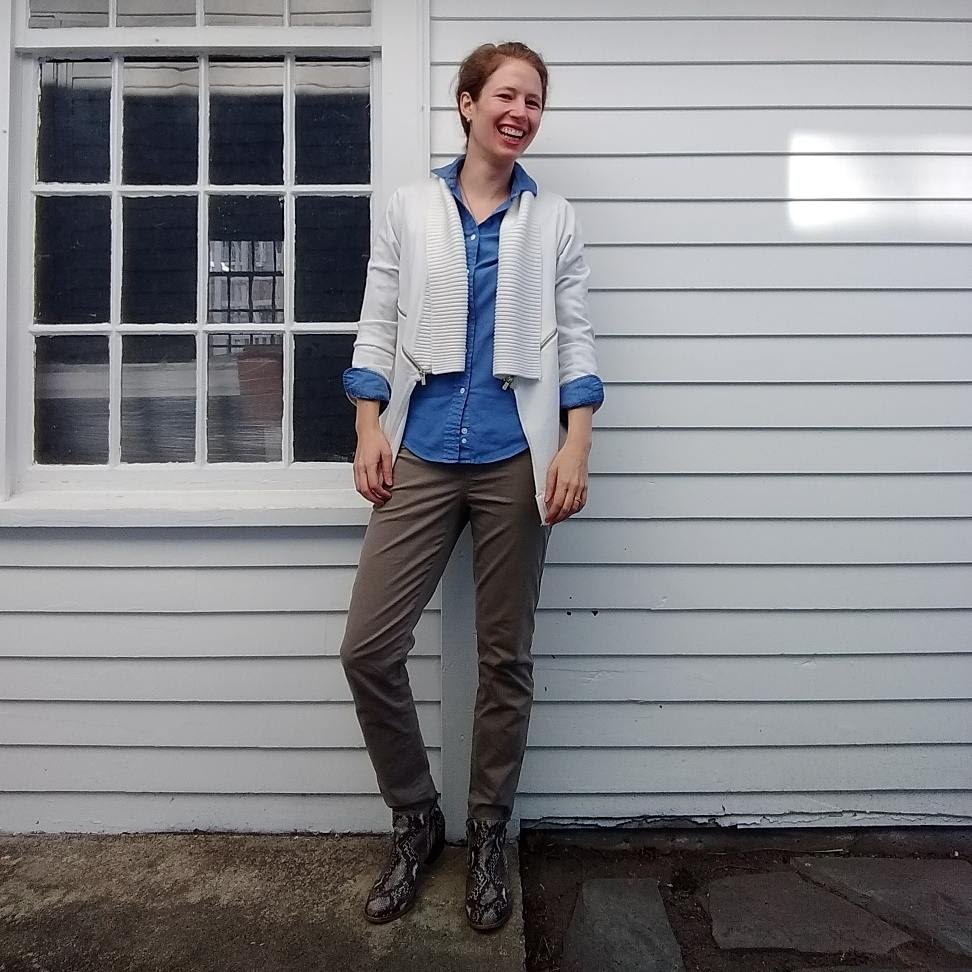 So I like how classic (button down + khaki-ish pants) blends with funky here (waterfall-ish cardigan with zipper details + snakeskin ankle boots). And the slightly longer length and the curved hem of the button down avoid the "chopped in half" look. Not something I would've thought to try without this challenge; also not something I loved so much I'll do it all the time. I give it 7/10 for unexpected success.
Day 9
Button down by F by Façonnable
Hi-lo cableknit sweater by Workshop by Andrea Jovine
Paige denim
Puma sneakers – all thrifted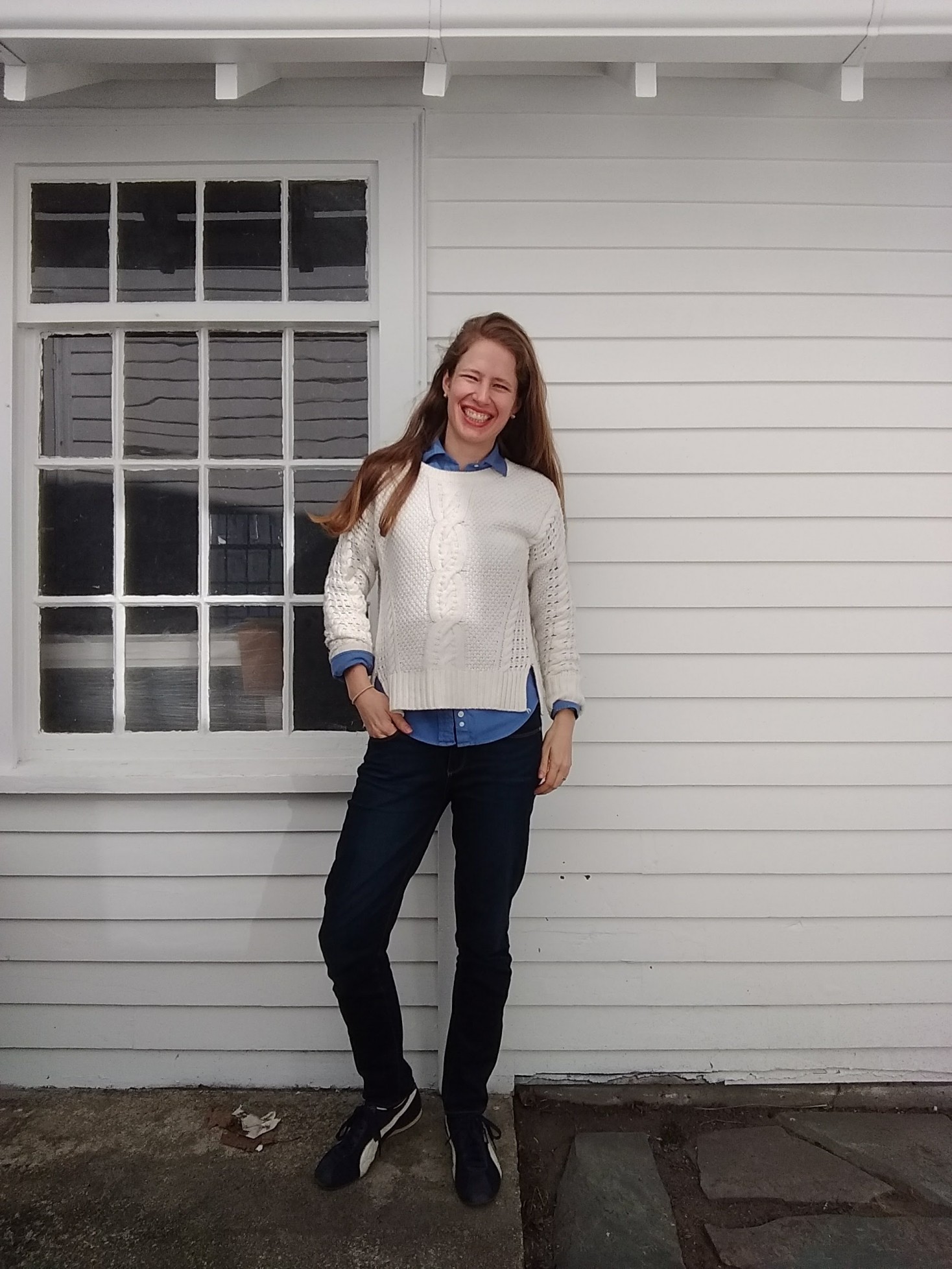 The only thing in this outfit that was in my original 10×10 was the button down. Oh well! I'm back in my comfort zone here with some great shirt tails peeking out, lovely summer-y colors on top, and some texture thrown in for interest. Wearing my snakeskin ankle boots would have added just that much more pattern to break up the long block of navy on my lower half; 9/10 for this slightly more casual, monochrome look.
Day 10
Left: Button down by Ralph Lauren
Blazer by H&M
Ryder pants by J. Crew
Boots by Lucky Brand
Right: Button down by Ralph Lauren
Sweater by Old Navy
"Mom" jeans by Gap
Puma sneakers – everything thrifted but the boots
This was Sunday morning – church, aka work – and Sunday afternoon, respectively. Again, the only thing in either of these outfits that was in my original 10×10 picks is the button down shirt. At least it was in both!
First, Sunday AM (on the left): I LOVE these Ryder pants – they are sort of canvas-y in texture yet much more polished than chinos or more casual pants; they fit like a dream. The boots add some fun and work superbly with the length/taper of the pants; but the rest of the outfit is boring, with a harsh contrast between the white/navy and my face. It just washed me out. I did look quite professional for a post-church meeting, though. (And let's take a moment to appreciate my beach-vibes hair, which happened on the blustery walk home.) 5/10 'cause I like the bottom half but not the top.
Sunday PM (on the right): once again with sweater-over-button down – now that I've figured out the formula I apparently can't stop wearing it. The mom jeans + looser sweater together reads a bit too baggy for my taste, but I have to admit it was a super comfortable outfit, which is just what Sunday afternoon calls for. The warm-ish gray and light blue of the pants also does my face a lot of favors – much less harsh than the outfit on the right. 8/10 and would up that to 10 if I could do the colors of those jeans in a slimmer cut.
Conclusions & Musings
I've successfully figured out how to layer a sweater over a button down – the keys being a thick enough sweater to stay put and not show shirt folds; a slim-fitting button down; and shirt tails long enough to poke out from underneath the hem of the sweater. As mentioned above I am wearing on semi-repeat; enjoy :)
I happily threw the challenge out the window 2/3 of the way through when I felt like I had gotten all the "interesting" outfits I could out of what I had chosen, and instead spent 3 of the last 4 days wearing new-to-me things I was excited to style (and which I learned from – e.g. nope to the white shirt + navy blazer combo!). Note to self: maybe don't thrift stuff right before the challenge and then not include it in your 10×10. :)  As Carol commented, "If you have something new to you, of course you want to wear it right away!!!"
What I enjoy from these 10x10s is that the constraints help me find interesting or unexpected ways to wear things I already have. I didn't feel that way this time, at least in part because I picked some pretty similar pieces to start with.  In previous 10x10s (spring; summer; fall) I gave my choices more thought and ended up with more engaging possibilities.  So if I want that feeling back next time, I'm going to have to plan a little more than "what do I feel like wearing the next 10 days?"
What do you think of the outfits I came up with – both inside and outside the lines?